It must have been around the 1978's that I bought myself my first model locomotive:
A small steamer, out of a starter set, sold for 25 Dutch guilders at that time: Märklin's 3029 was a fact!
It ran it's course on my dad's layout ~ the attic empire.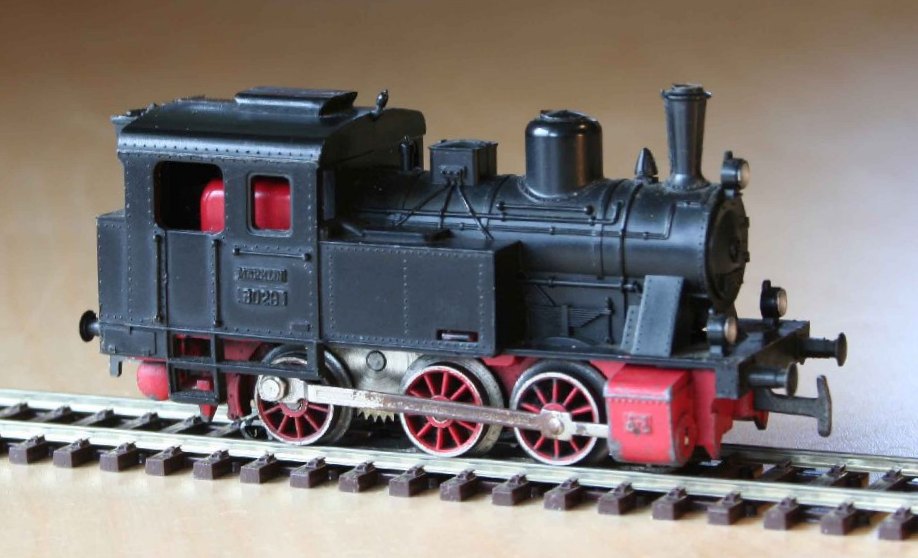 After some years I gave it a more frolic tune, still being unaware of the fact that, in time,
I would become a serious Länderbahn models collector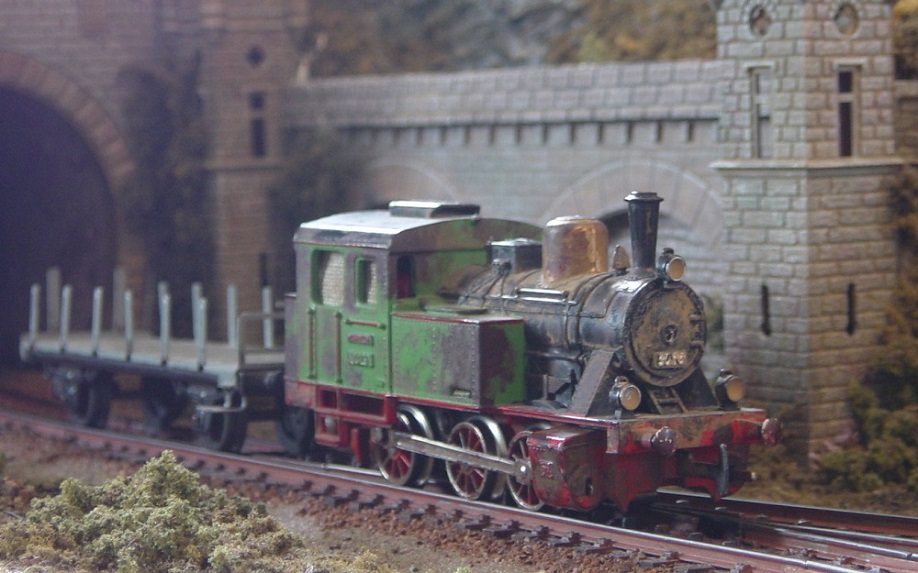 I added three coaches, two Märklin 4004 and the 4005 with a brake mans' cab.
One way or another I lost all 4004 boxes but one, and also kept the only 4005 box.
They are still in a very good shape, left that they are over 35 years old.
Their colour, form, odour... well, that's what memories are made of.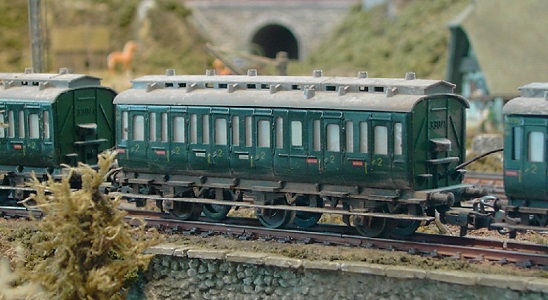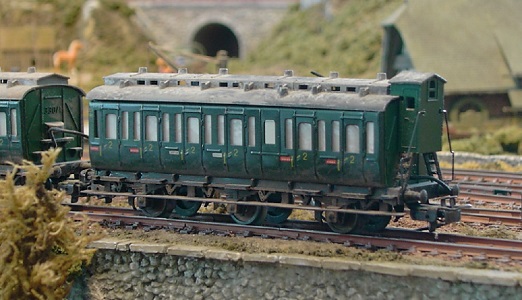 Their boxes... well they speak their own language.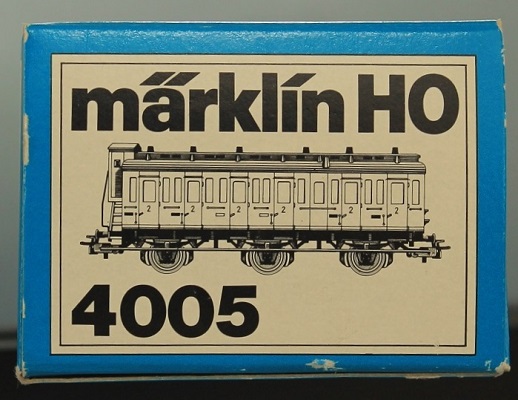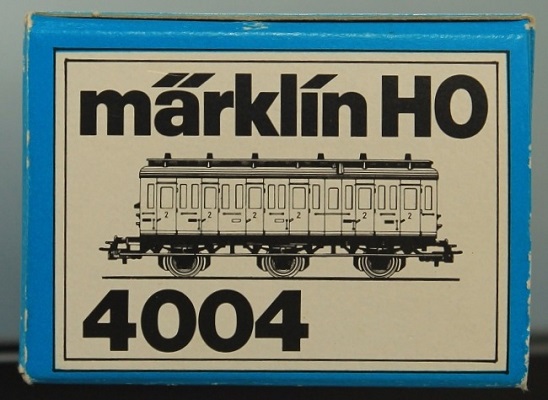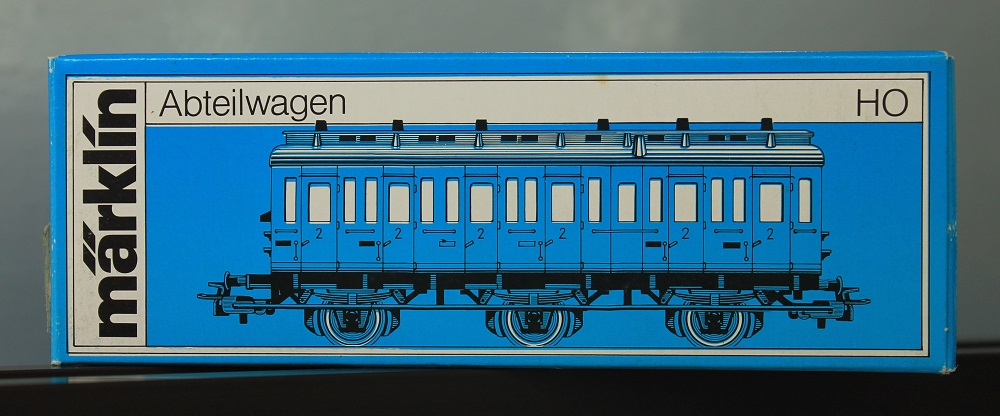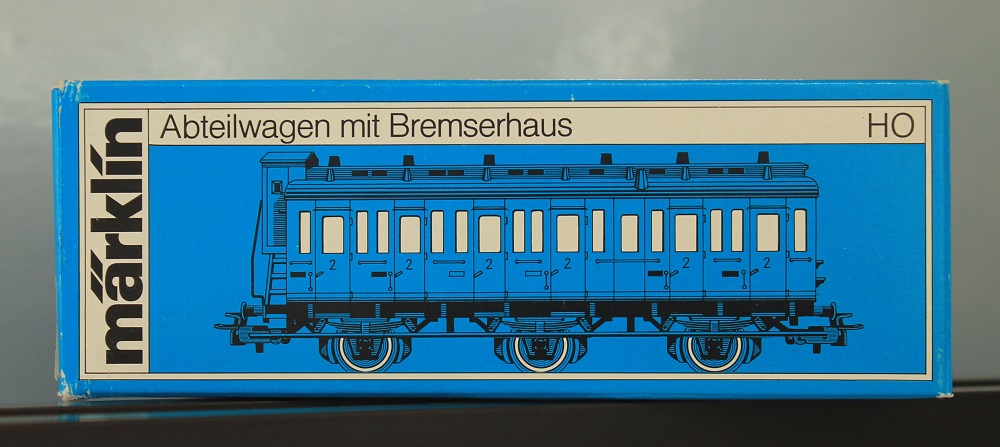 So, here the story of Märklin boxes begins...
1963

Before the well known colours of blue and white were used,

Märklin introduced orange.

The top carried a drawing, whereas the side had a picture.

The content of the box was announced in 4 languages:

German on top ~ French, Dutch and English at the side.

This box was made in September.

Märklin 4621
1965

The box of this tank wagon was made in June 1965.

The orange colour has been replaced by light blue.
Three models of tank wagons were made in 1965 for Aral, Esso and Shell (viz. 4500, 4501 and 4502).

Now these models are incomparable to modern standards.

To me they are models "from the old days".

I like to display them on a Märklin Metal Track

behind a toylike steamer BR 89 (#3000)...
1981

On the day I graduated for high school in 1982, I bought myself ten of these freight cars behind my first real steamer (class 50 Kab, #3084).

This box from November 1981 is still made of cardboard.

It's colour has changed into dark blue and white.

Even the name 'Märklin' is modernised in its outlook.

Märklin 4624
Since long, Märklin has printed a special code

which indicates the number of models (64 024 OA),

The date is mentioned with 11 81 (November 1981)

The box was printed by wd (unknown to me).
1988

To display models, Märklin experienced with

cardboard boxes and plastic windows.

Because of the vulnerability of the windows,

these boxes were of no great success.
1990

Improved and changed in colour is the look of this box.

In 1990 Märklin left the blue colour and changed it's house style

into white.

Blue has only remained in the line.

The name Märklin is changed form black into red.

This box dates from February 1994 and is still common in use.

Märklin 4705
To lower the cost, Märklin decided to use only one sticker on each box instead of two, for each side. Quite inconvenient for retailers...

Even the blue line is gone. It looks rather dull.
Even more inconvenient is the storing of commercial models or 'Werbemodelle'.

These models are used for commercial purpose.
| | |
| --- | --- |
| | And this is the frontal look. Still anonymous... |
For the Post Museums Shop, Märklin made some lovely cars.

Although recognisable as a Märklin model,

it shows the (German) postal colour yellow.

These cars are only available at the Post Museums Shop.