Storing your Stock
Where do we keep our rolling stock, if not positioned on the layout?

Or if we don't want to run the risk of a case of "mysterious disappearance", how can we keep them safe and still enjoy them?

Indeed, some collectors keep their precious treasures in their original box and store them in a closet.

Much like a good bottle of wine is kept in a wine cellar. Out of sight, out of mind, as often becomes the case…

Why not store and present (and thus admire!) your treasures by displaying them in custom-made showcases?

On this page I would like to give the visitor an impression of how one might store one's rolling stock in various types of showcases. Having one's models displayed will also increase the joy and appreciation of those finely crafted models that are available to the collector in this day and age.
---
1. Classical Concept ~ 1992
A friend of mine made this showcase in 1992 after a design I gave him.

The concept was based on the idea of having my "Berlin 750 Years" rolling stock

presented in my study, so I could enjoy it whenever I was there.

This modest collection consists of 3 locomotives of various Berlin factories released by Märklin in 1987 as well as the 1989 Mallet.

In order to be properly photographed these locomotives are painted in light grey, black and white.

The cabinet is made out of oak and features a removable glass front panel.
---
2. Länderbahn ~ 1994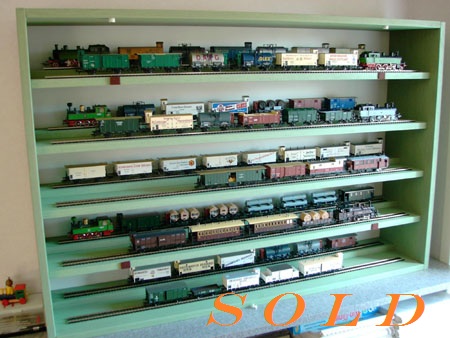 My uncle gave me the second display which I used a few years ago to store my Era 1 rolling stock, consisting of smaller branch line trains.
This one is made out of beech wood and the white painted back shows of the green color of the German Länderbahnen Era
without distracting shadows.
A piece of Plexiglas, held in place by little plugs, forms the "door" of the showcase.
---

3. Opus Primus ~ 1995
I made this larger display in1995.

The cabinet is large enough to store all my DRG and DB rolling stock.

The unit can accommodate a number of locomotives

and the bottom half is large enough to store complete trains.

The cabinet is made of plasticized, grayish tone, chipboard.

Two glass panels form the door. A pear wood organ key serves as the door handle.

A brass plate, engraved with the text "Locomotives of the German Railways" makes for a nice finishing touch.
---
4. Opus Medius ~ 2002
This IKEA-cabinet was sort of a "temporary-permanent" display in the living room.

I placed three pieces of pine in the top so it could be used

to display my three Bavarian B VI engines in a tiered manner.

The rest of the cabinet is used for storage of books and magazines.
---
5. Opus Magnus ~ 1997
And finally here's my "masterpiece", a two-piece,

large cabinet that I made in 1997.

The upper part has 8 shelves. Each shelf has 3 tracks, thus each shelf can accommodate three full-length trains.

The lower part of the unit serves as storage for empty train boxes as well as rolling stock that is not being used.
On the left the ground finger hold of the upper glass door.

On the right the door handles

of the lower part.
---

6. Opus Lucis ~ 2019

A nice display for my study:

* at the top a display for static presentation

* at the bottom a diorama with the theme 'Rheinstrecke'

See: the making of!

Frits Osterthun,

August 27th 2004

August 18th, 2009

February 14th, 2020