Stories, when told properly, will stir the imagination, which in turn helps to visualize the story in one's mind.
Pictures on the other hand can add yet another dimension to a story.
Since I enjoy telling stories as well as taking pictures I have combined both those aspects of story telling on this website.
On this page I would like to introduce you to the way I became acquainted with photography.
Through the use of the following pictures and text I will show you the means to improve the manner in which your models appear
through the eye of the camera.
About camera's...
My first camera was a non digital mirror reflex Minolta camera X-300S with MD Zoom lens (28-70 mm).
For close-ups ~ and I mean CLOSE close-ups ~ I used a Minolta Auto Bellows.
With such an attachment even the tiny (4x10 mm) builder's plates on the locomotives show up!
Around the year 2000, I entered the digital era when a friend introduced me to the Konica Digital Camera (KD300Z).
Some three years later I bought a Sony Cyber-shot (f=8.0-24 mm) with 3.2 mega pixels.
The very best I have now is the Canon EOS 350 D Digital camera (18=55 mm).
You THINK it, this camera can DO it!
In 2011 my EOS 350D gave up, so I bought myself the Canon EOS 1100D.
All that the previous cameras could not do, this camera can! Even cloudy and dark days are no problem as the menu on this camera allows the user to adjust everything!
Color, depth, composition, dark, light you name it it can be adjusted! Taking a picture of a model locomotive is no longer a problem: builder plates, rods, stacks and bumpers all show up sharp as a tack
and the object at hand is in focus from "head to toe" as the expression goes.
About photography...
And now some words about the photographing process itself. I know that many books have been written on this subject.
Therefore I would like to bring it back to only three major rules (or principles if you like) by which I use my camera:
1. The way light is cast on the object is just as important as the environment and background (L).
2. The environment (background) should not detract from the object being photographed (E).
3. The object itself must be worth shooting (O).
Henceforth the above will be known as the "LEO" principle!
Ad 1 ~ light
Procuring the optimum lighting effects in model photography is downright difficult.
Since artificial light has a great impact on the livery of the model (not to mention the way a camera "sees" it) one of the most challenging principles
is the use of daylight. Daylight provides natural lighting, although not every background suits itself for that.

S 10 on display with a tree
This Krauss&Maffei Mallet Nr. 5751 was taken on a cloudy day, while the sun came through just for a moment...
While using this Heki part of a wall, it looks just like a stone bridge. I installed the whole set on the edge of my balcony!
Perish the thought. Be careful.
Reichsbahn 18 137 with a real village in the background.
If you lack a proper background, but you want to shoot outdoors anyway, you might use a small table and choose your own background.
This can be anything, as far as it suits the object being photographed. Even a lane with trees suits fine...
Outdoors with a soft tone of autumn afternoon sunlight...
Still, I do not recommend shooting outdoors. Aside from the fact that you always have to make a studio of its own ~ table, background ~ and the risky way of walking with precious models etcetera ~ the light is always variable and cannot be controlled.
Full sun pictures fail in MY book!
But even if you have the display in the shadow of wall or tree (like the one below), light gets diffused and contrast is too harsh or strong.
That's were the reflection screen comes in.
Brawa Prussian coach outdoors
The same goes for flashed pictures. My advise is: never use flash.
| | |
| --- | --- |
| | |
| Shot outdoors with Sony Digicam without flash: too dark... | and the same shot with flash (pretty embarrassing to show) |
Ad 2 ~ environment
The best background is the layout itself, provided of course that the LEO principal is applied.
Prussian steamer S 10 on the Cochemer Bahn
As a background I was looking for something that was large enough for reaching outside the camera lens.
Sometimes a book or a road atlas makes for a nice back ground, as long as the pages are large enough and copyright issues are of no consequence. First there was this book of Carl Bellingrodt with fine black and white pictures, which gave a fine contrast to the colorful models.
One should not use the same background pattern for all pictures. Variety is the spice of life and keeps things interesting.
Using the "Eisenbahn Atlas" one can have different backgrounds, yet have them similar.
The railroad track maps certainly make for an appealing sense of realism and add to the total effect.
The large pages with blue and beige make a very suitable motive and I must admit that one can easily trace this motive back to my camera,
when copyright isn't taken serious. I must say, this kind of picture has a charm of its own!
This day I wanted to shoot all my models downstairs but the thought of stumbling down the stairs with all those precious models in my hand
didn't exactly turn me on, so I decided to shoot the pictures in the layout room instead.
The back of King Ludwig's showcase made for a good background horizon...
While searching for another, even larger, background I found this picture with an interesting pattern on the backside:
The first time I used it as a background was while shooting the Märklin Insider Class 05 003. It was even the first time, that I made use
of the display that came with the King Ludwig Train. I must say, I was impressed.
Many static pictures were taken with this motive. You will recognize them easily on this site.
However, while shooting some locomotives at my dealers shop in September 2007, I happened to use the backside of a Roco Platinum box.
This coincidentally gave a very fresh, bluish, almost lucid atmosphere. I took this picture with white balance in modus 'lamp light':
Since that time I returned to a more simplified background. So now I've changed my own studio using the same motive.
Only three things may appear in the lens:
| | |
| --- | --- |
| | 1. the foundation on which the model stands (track platform, table) |
| | 2. the background theme (box, table, endless curtain, painting, book) |
| | 3. the model itself (locomotive, wagon, etc.) |
I haven't mentioned the importance of using indirect light. Using a white sheet of Styrofoam daylight can be reflected where needed.
Reflected light makes for very realistic looking pictures.
Here are all the components needed to make that professional looking image of your favorite model:
1. the camera

2. the tripod

3. the display

4. the model

5. a stable and solid foundation

6. a sheet of Styrofoam

7. Last but certainly not least: the right attitude, quietness and time.

Like good wine it takes time to compose, light, shoot and finally produce a nice picture! There should be no need to hurry!
My studio...
Ad 3 ~ object
One can learn a lot from Carl Bellingrodt's famous compositions. Some of the characteristics of his compositions included:
Several views, shot in a clockwise direction and from several different angles.
When steam locomotives were to be photographed he always caught the coupler and driver rods in the downwards position.
Among model photographer aficionados this is known as the "Bellingrodt position".
At last, here are three static shots that show my evolving way of static shooting up to now.
March 2006 (this background distracts a lot!)
October 2007 (better...)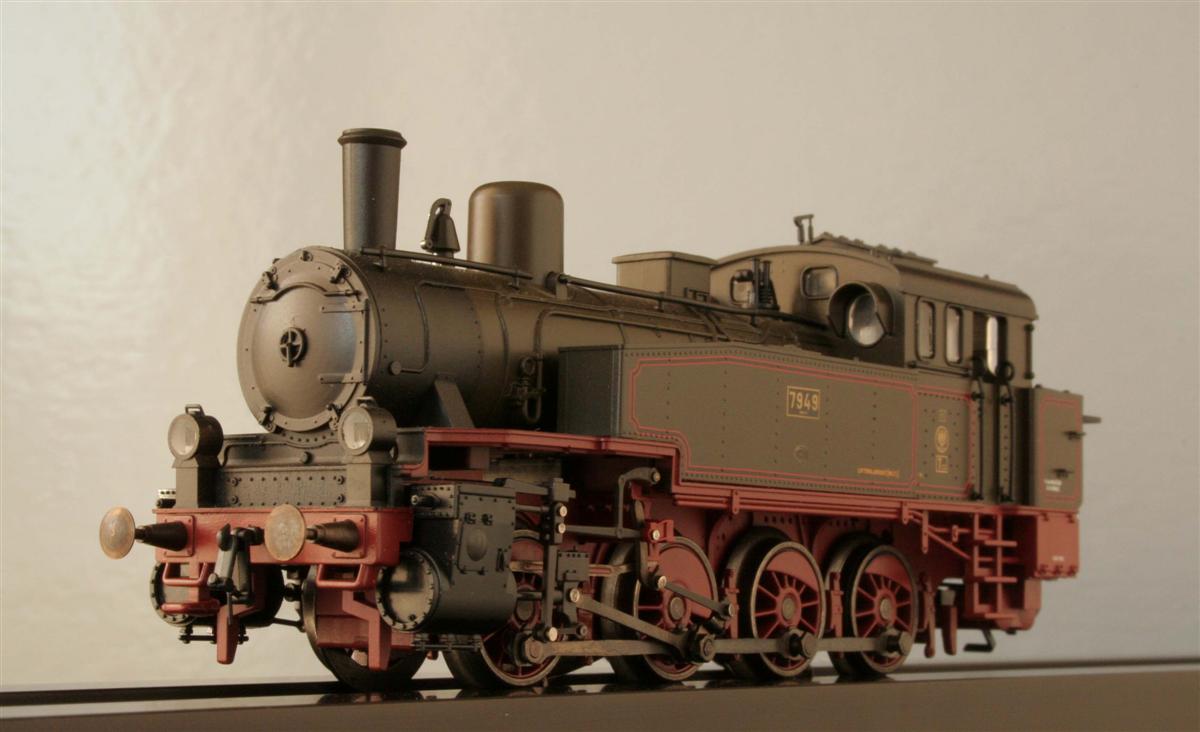 December 2007 (well, that's it!)
Or meeting on old friend again, which I shot as one of the first in a truly embarrassing way in 2006, but found him back again in 2012: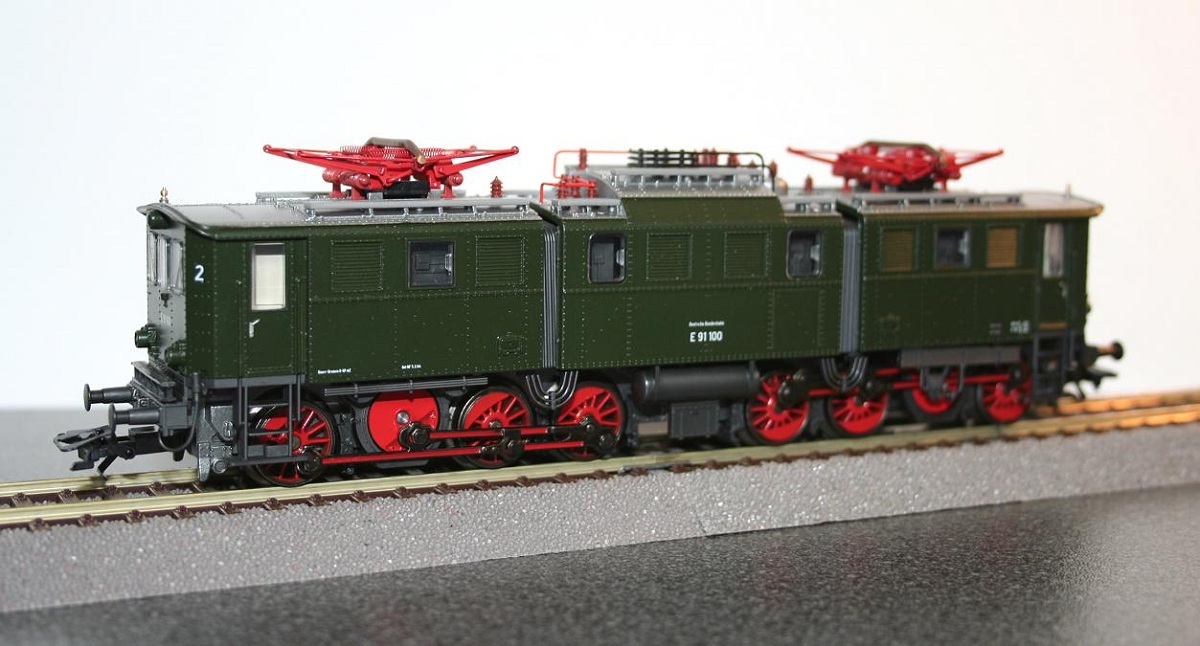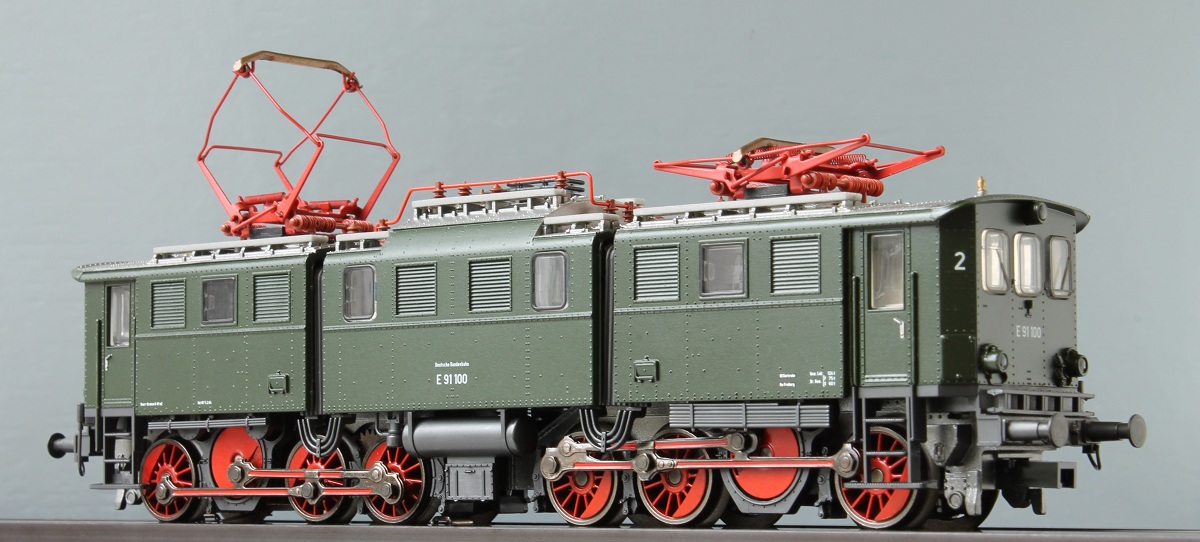 This last couple of shots of the same model show what a little diffuse winter sunlight can do, be it in the right proportion.
I think the effect is amazing. You may judge for yourself.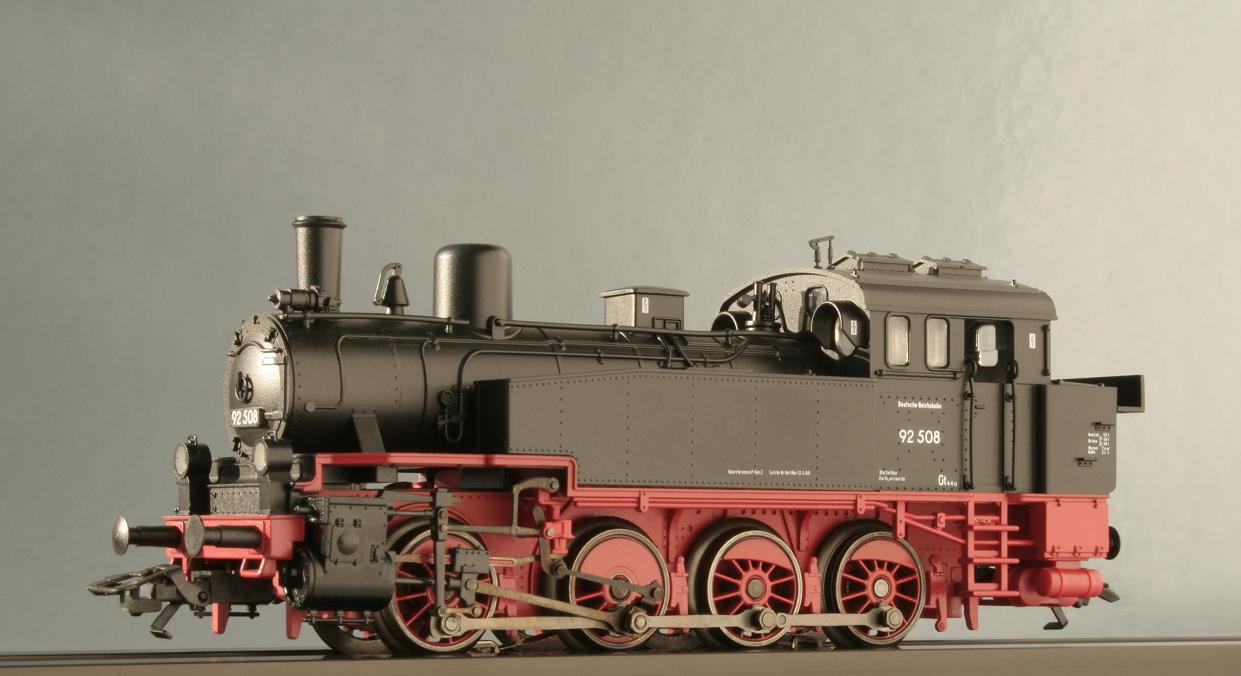 Finally...
Using a good digital camera professional results can be attained and the need for "doctoring" (Adobe!) pictures is almost a thing of the past. View the pictures on your computer with a critical eye, pick out the best one and thrash the rest. There can only be ONE best one!
Digital imagery allows the novice photographer to take many, many pictures and throw out the ones deemed "no good"…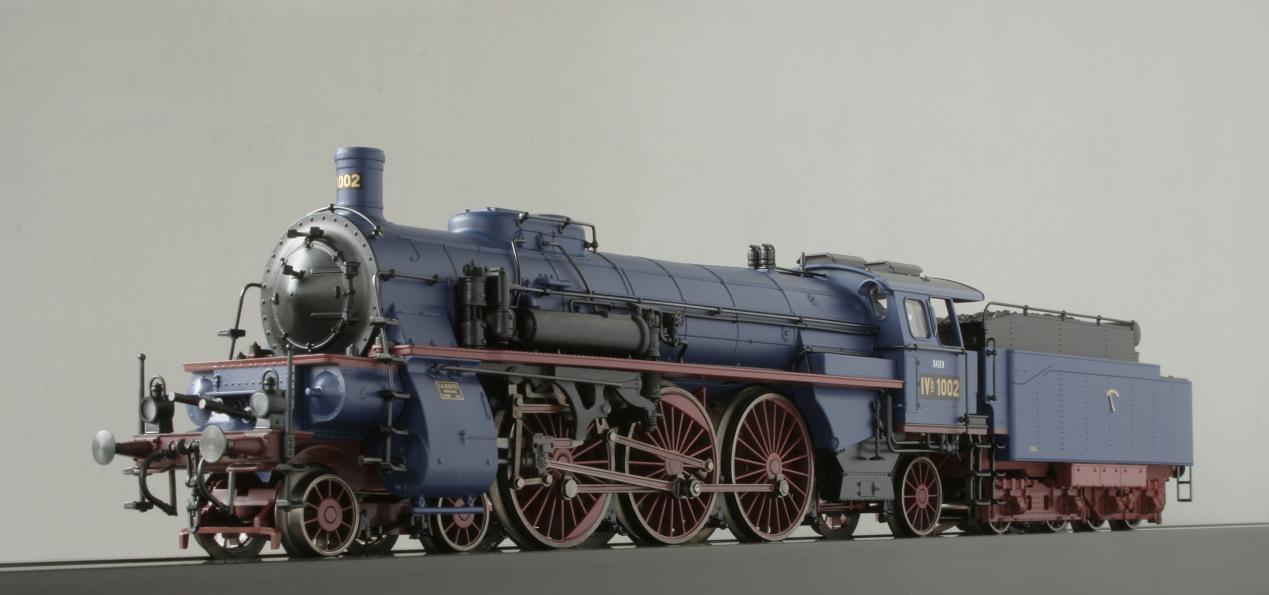 This is the top in October 2008 ~ with a sheer grey box in the back
It helps the photographer to have at least some knowledge of "Design 101": composition, relationship of subject to background and relationship of total image to the size of the object.
What stance the object? What angle of view? So called "helicopter" views should be avoided.
In the end experience, imagination and a bit of fortitude will result in acceptable to good to really good pictures of your favorite model.
Some fortitude came unexpected to me on November 27th 2010, when I incidentally used a black box for a model that was "too grey" for a grey background.
This was the Brawa S 2/6 in grey livery. It resulted a. o. in this fine picture of the Wrt. C.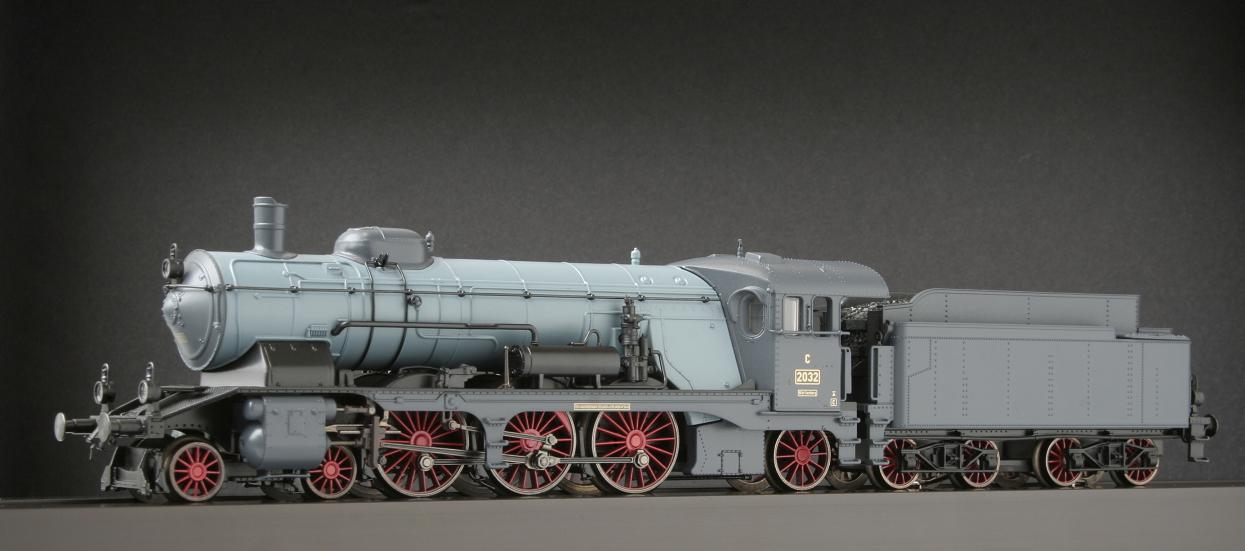 But sometimes it's good to return to the old paths again, like I did in December 2012:

Many, many things are to be considered and it is hoped that the preceding will have helped the novice in a small way to become a better model photographer. Enjoy!
To see more examples of my Static Photography, please watch the Picture Book.
Additional there's a page of Class 97, Class 98 and Altbau Eloks completed with (an attempt of) Neubau Eloks.
In July 2009 I started a special Portrait of Bavarian steamers, which were taken at the Micro Metakit Office in Landshut, Germany.
Frits Osterthun
December19th 2008 / August 18th 2009 / November 27th 2010 / December 2nd 2012 / August 8th, 2020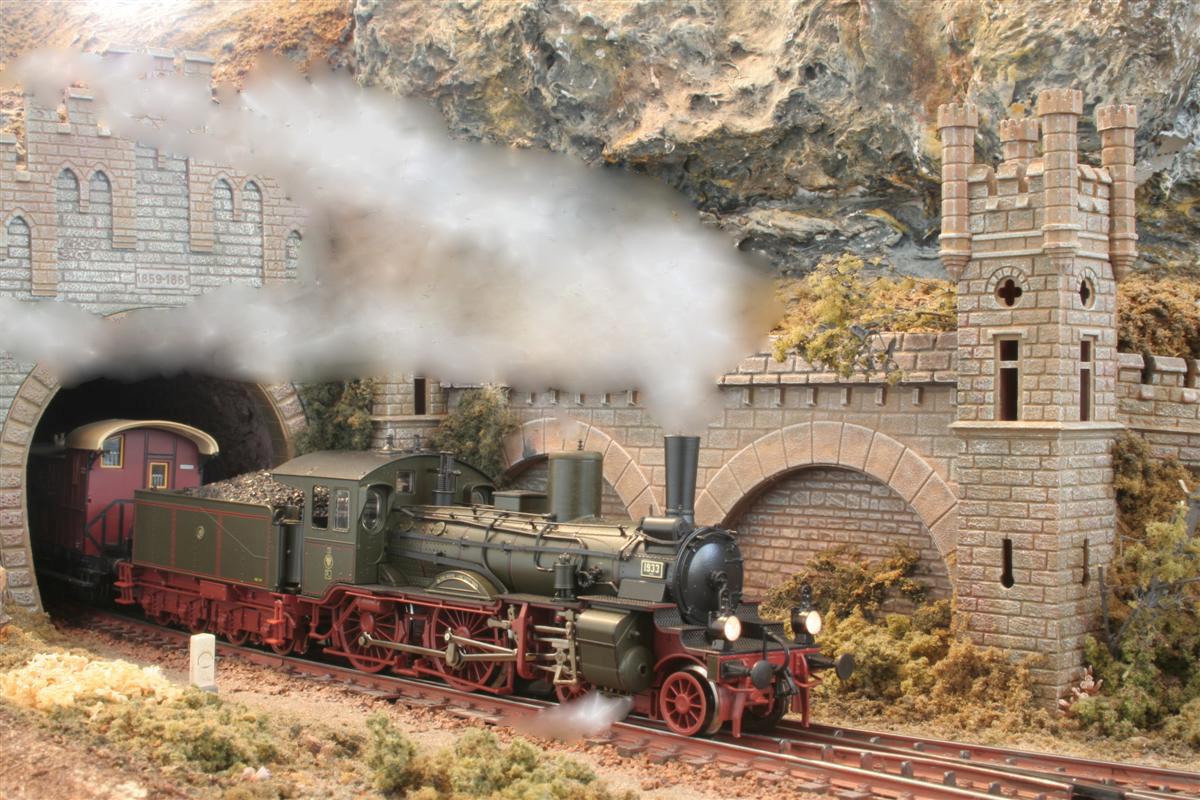 By the way, some doctoring can make a difference indeed ~ therefor, see a special report!