Latest News:
18.12.2018
Renovation in the back... just have a look right here.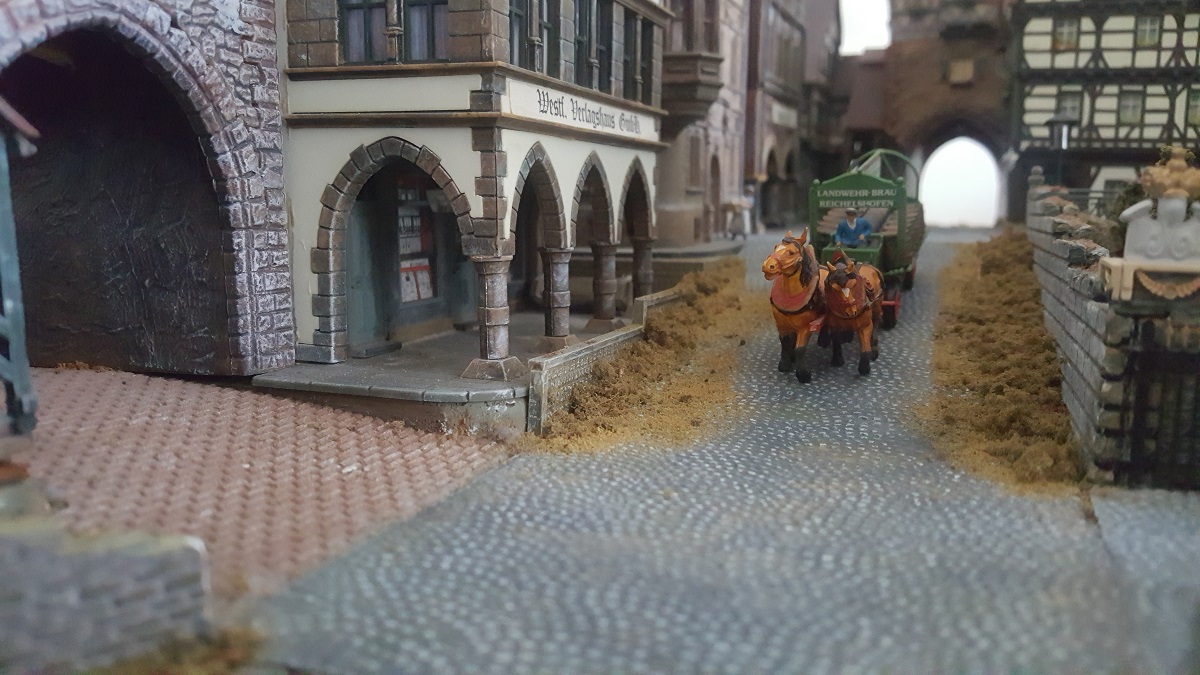 11.12.2018
Since I moved, I decided to check and lubricate all my locomotives if and where necessary. The analogue ones are most attractive with their simple mechanical devices.
To make it easier, I now have one room for maintenance.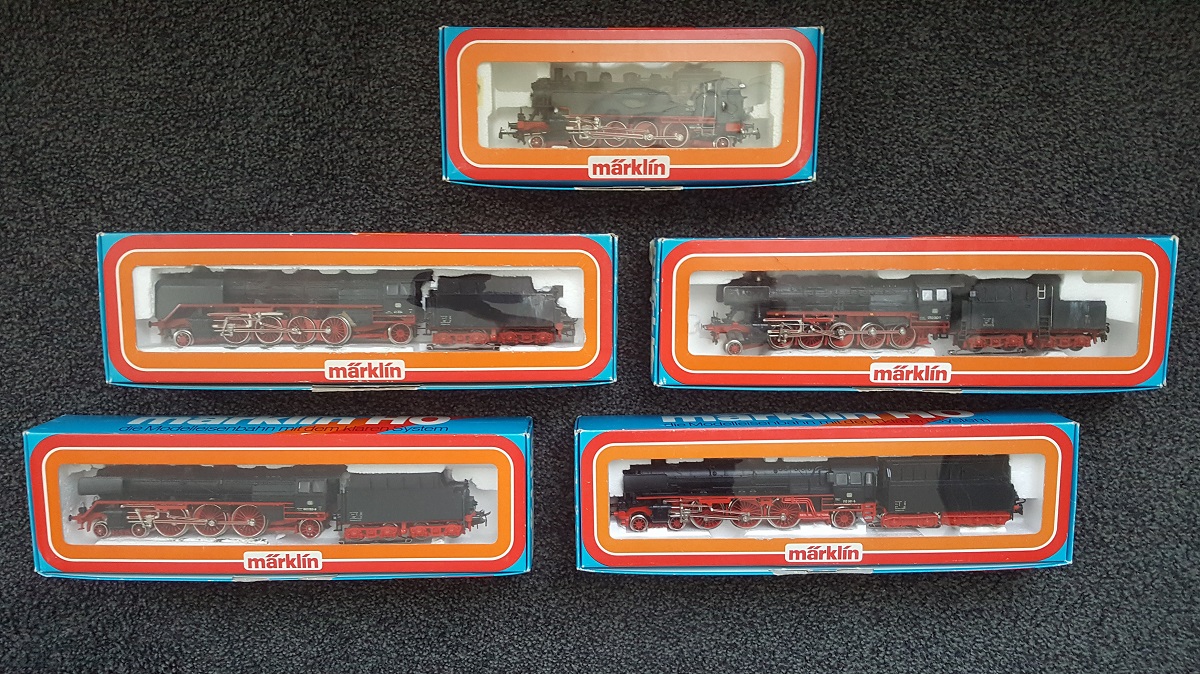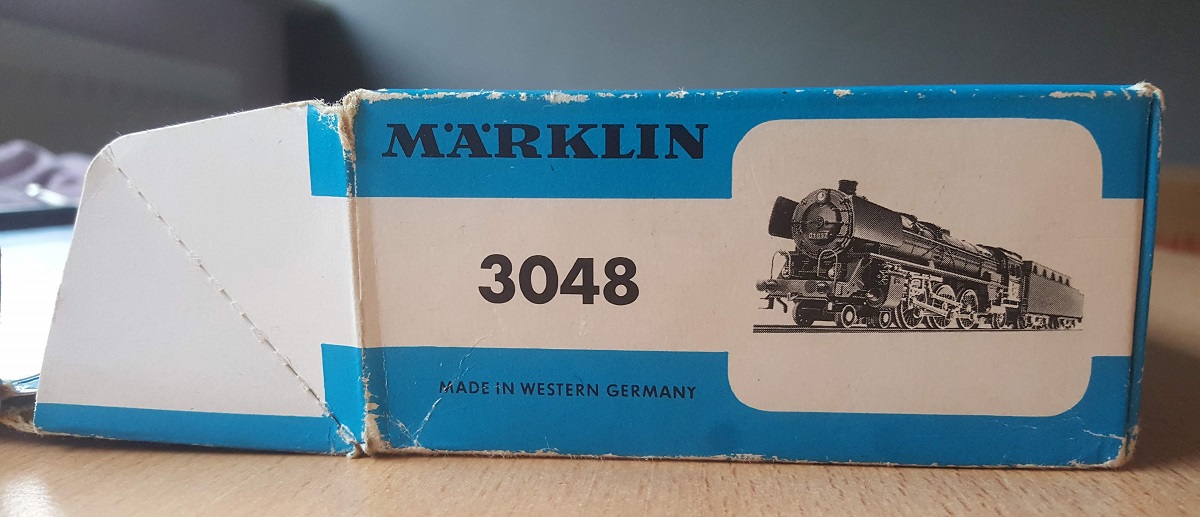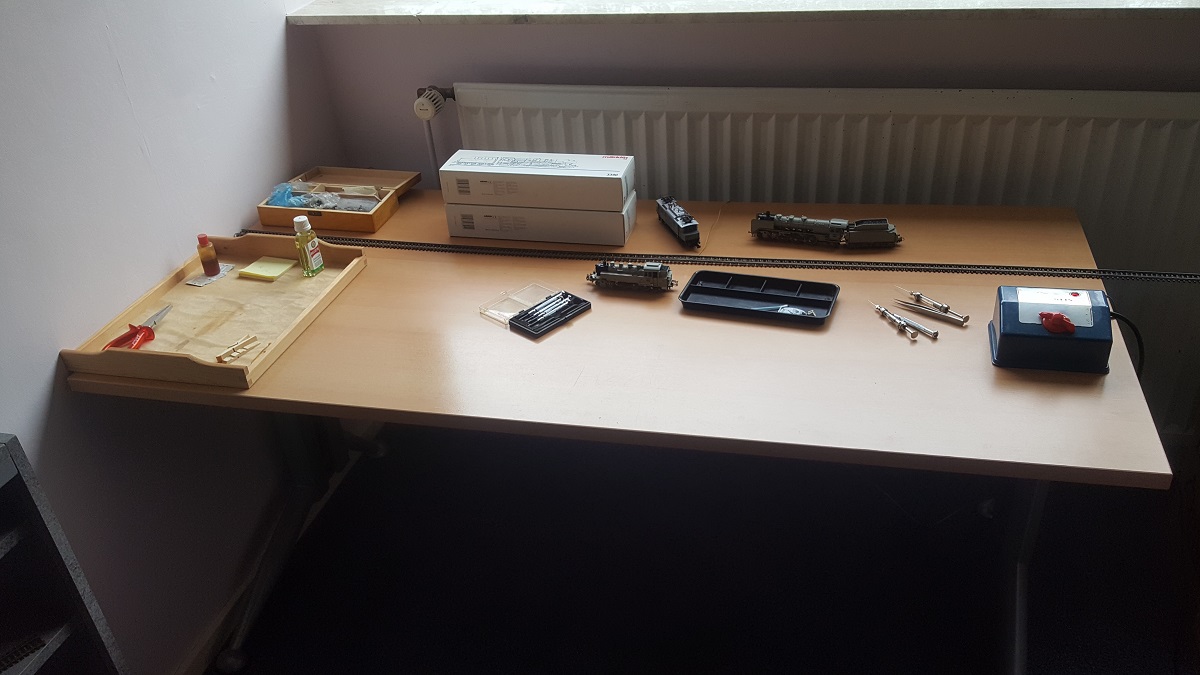 My first Einheitslokomotiven from the 1980's: Märklin 3096, 3082, 3084, 3085 and 3310
11.12.2018
While making the Cochemer Burg in a new shape, I needed part of a city wall. Since one couldn't see it I never bothered to put something instead.
Now was the time to do so. A report can be found here.
Even if you can't see it at all, while standing in front of the layout, to me it was just great fun to tease my skills again...
And it won't stop here.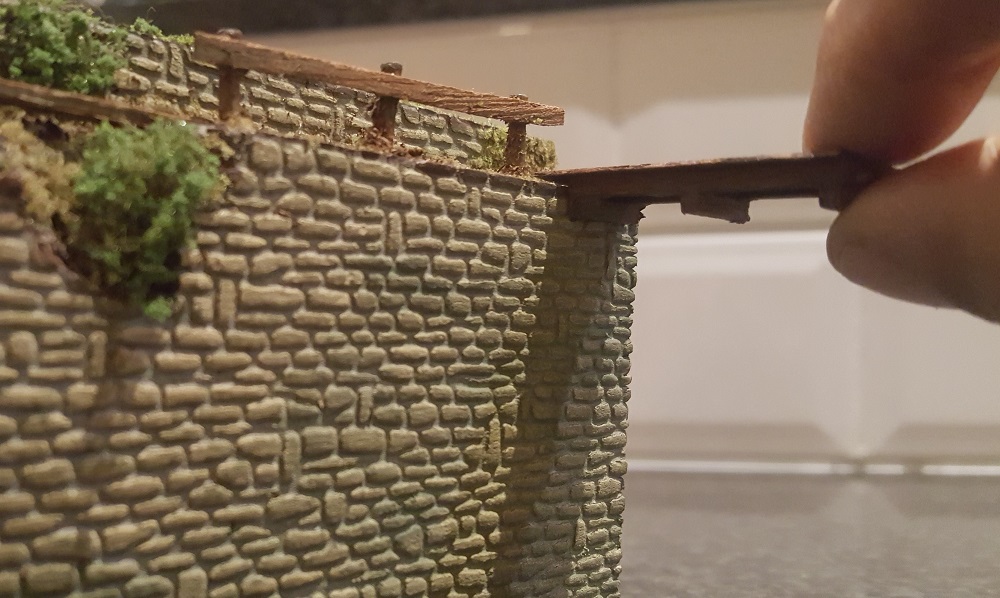 10.12.2018
Last month I started a renovation plan of Cochem Town. It needed a firm cleaning since a layer of dust had covered everything in the past years.
I also discoverd that some houses remained dark at night since they were still disconnected.
Even the Vollmer Pflaster in the back have annoyed me since I started building Cochem Town. Plenty of materials were at hand, so I decided instantly to do a great makeover of the whole area. Even some house got external lighting.
The Urach Fachwerkhaus (Kibri 8900) was my first challenge. A review of the restauration and repainting of this model can be found here.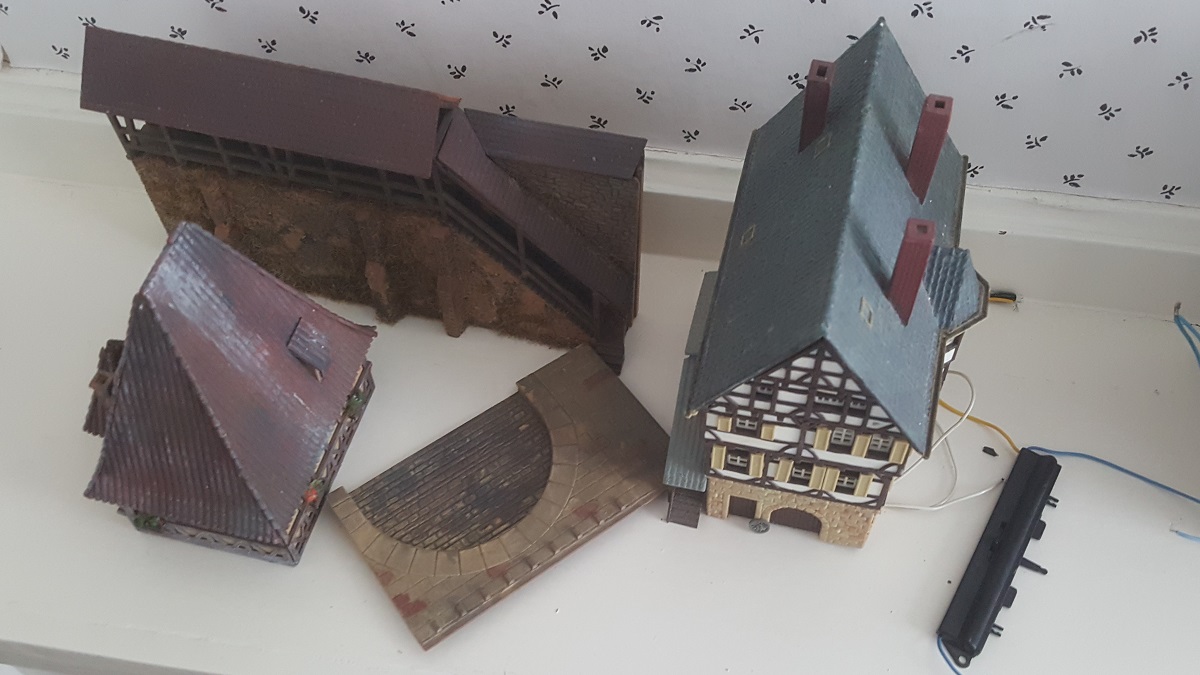 6.10.2018
Last Saturday I was at my dealers for a small photoshoot. For the moment this will most likely be my last visit, since I will move to the north in a couple of weeks.
Some nice models were waiting to be 'eternalized'. The class 94 (Fleischmann 7094, released 1978) was handed over to me by a customer who just visited the shop.
All dirty dusty. It took me a while doctoring to clean her up a bit. In a cabinet I saw the famous Werklok Anna (Fleischmann 4000), with a similar amount of dust.
Then there was this Bavarian tank car - Fleischmann 543715 - which just arrived by post this morning. It found its way into the Laenderbahen List.
Sander brought his purchase of the 2013 Trix Clubwagen for me into the shop to shoot.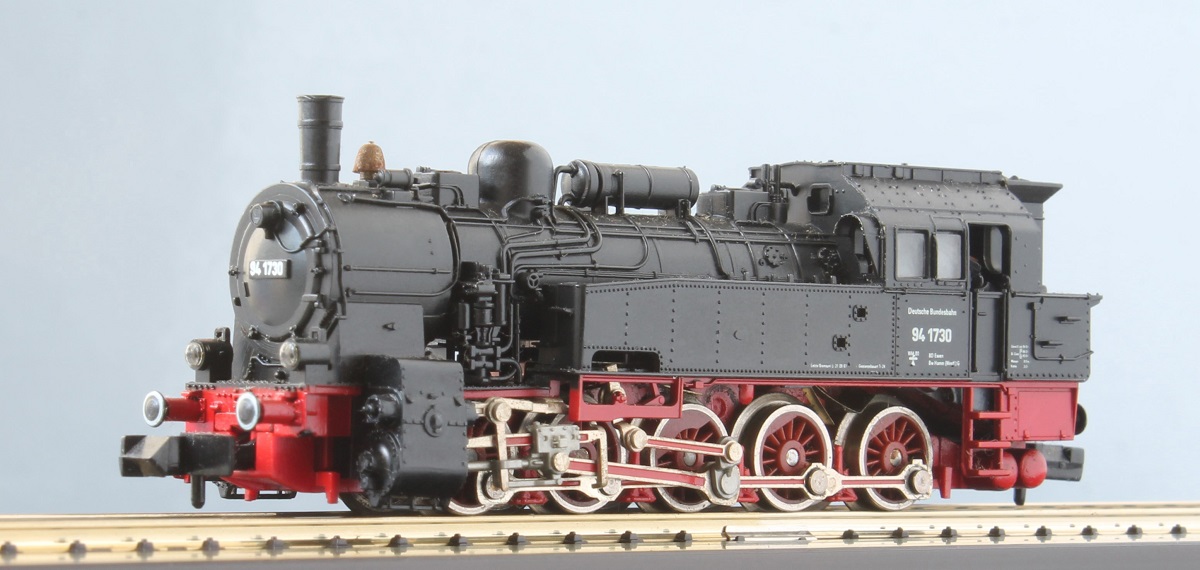 Fleischmann 7094 (N 1978)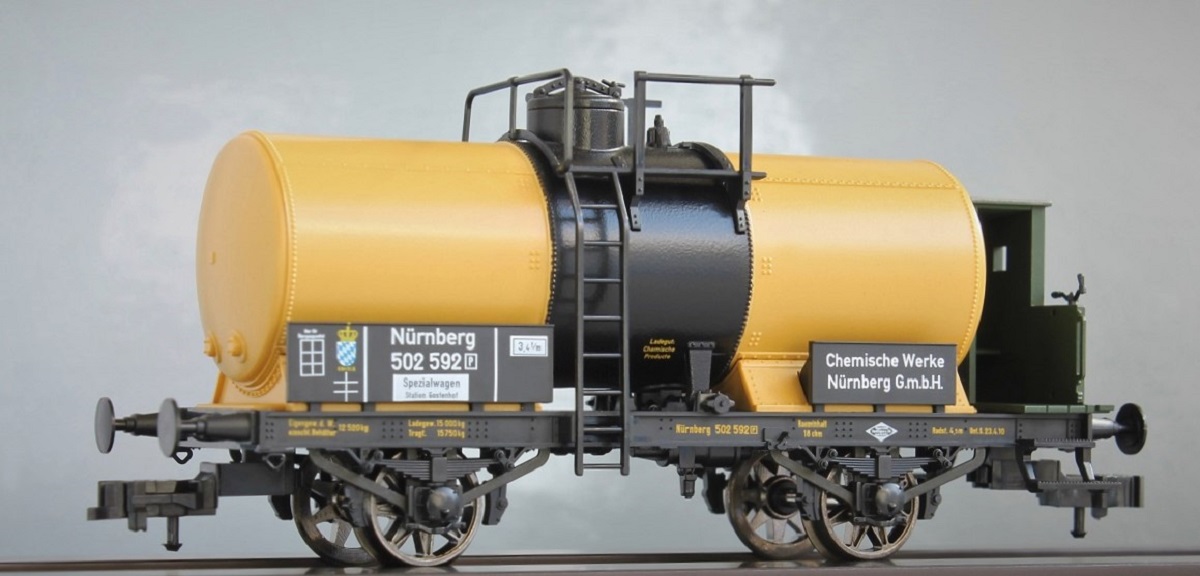 Fleischmann 543715 (N 2018)
already S O L D O U T !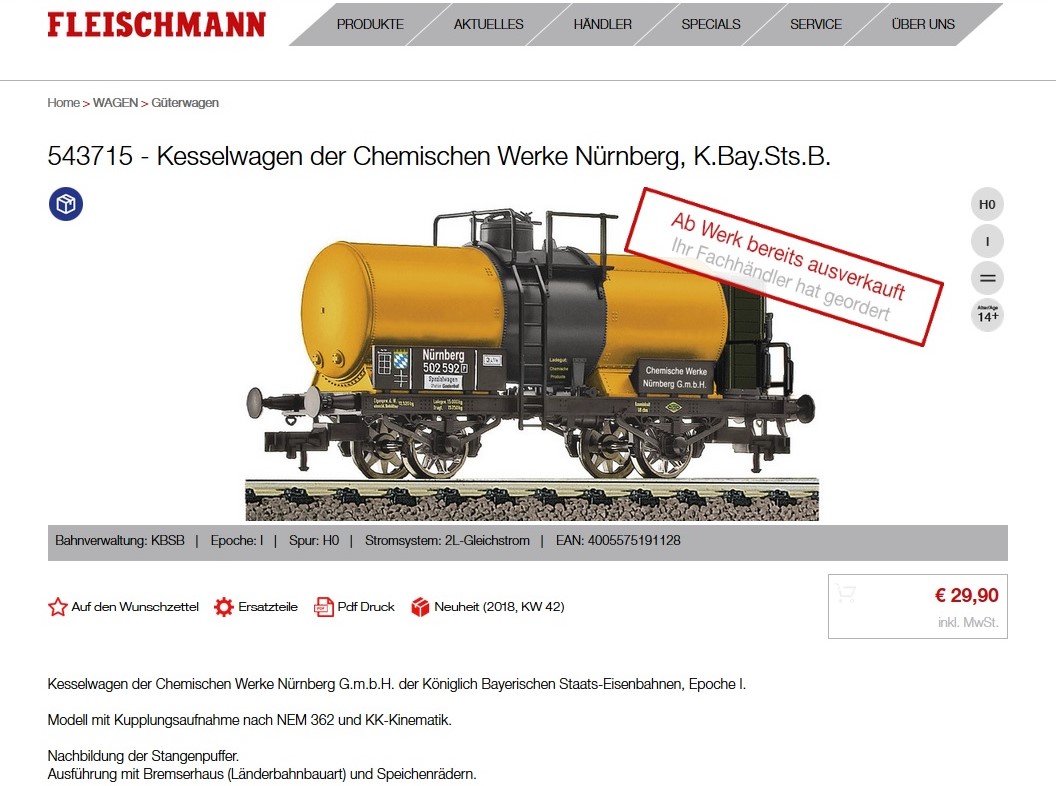 Sander brought some purchases with him as well for me to shoot.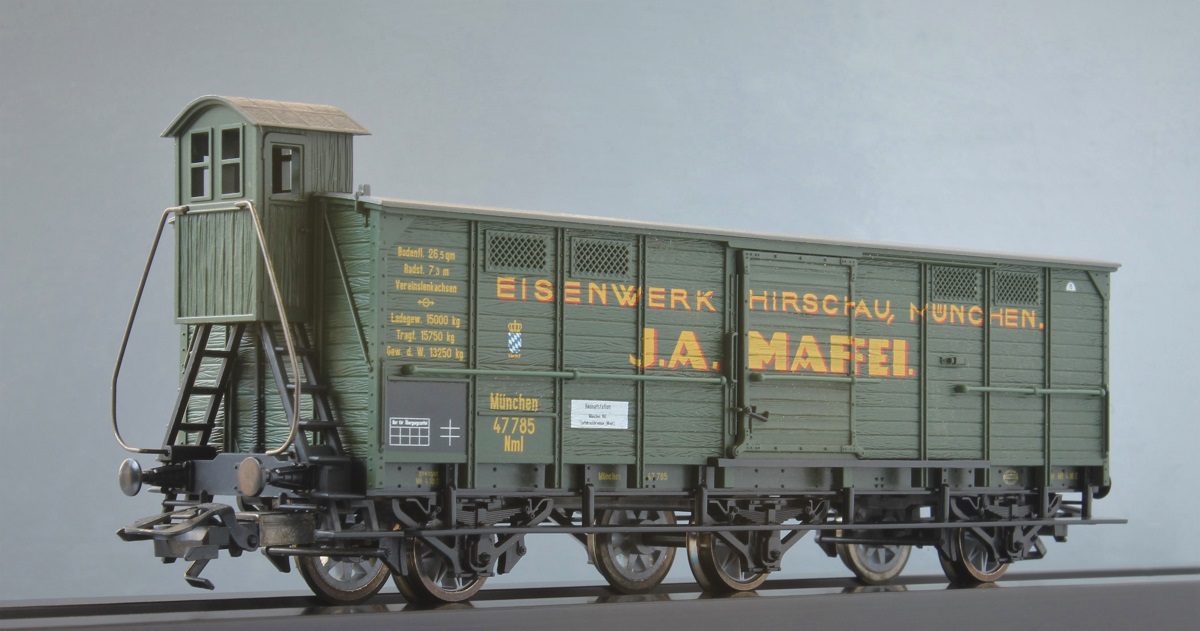 Trix 24813 ~ Clubwagen 2013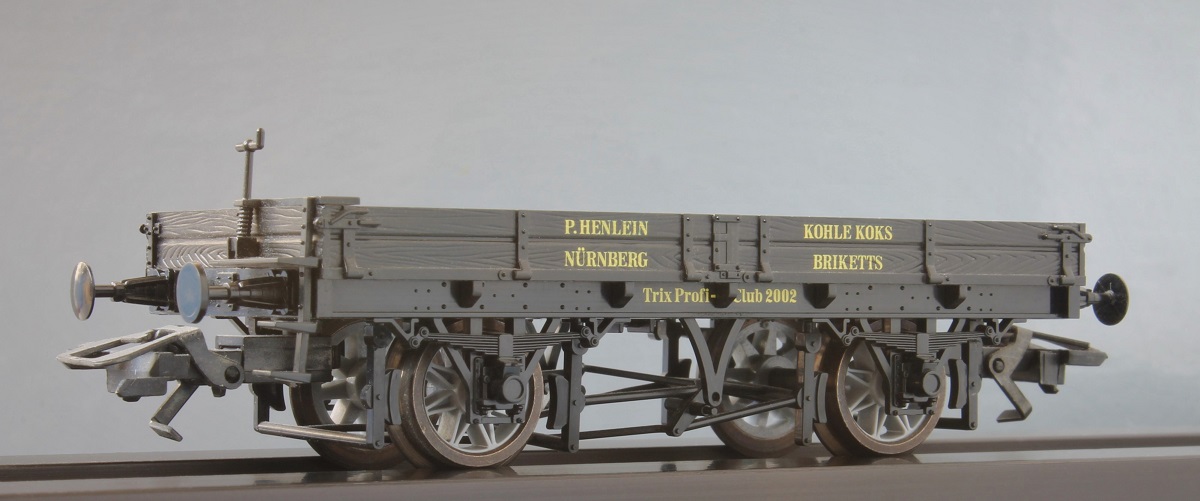 Tric Profi Club Wagen 2002 (Trix 24001)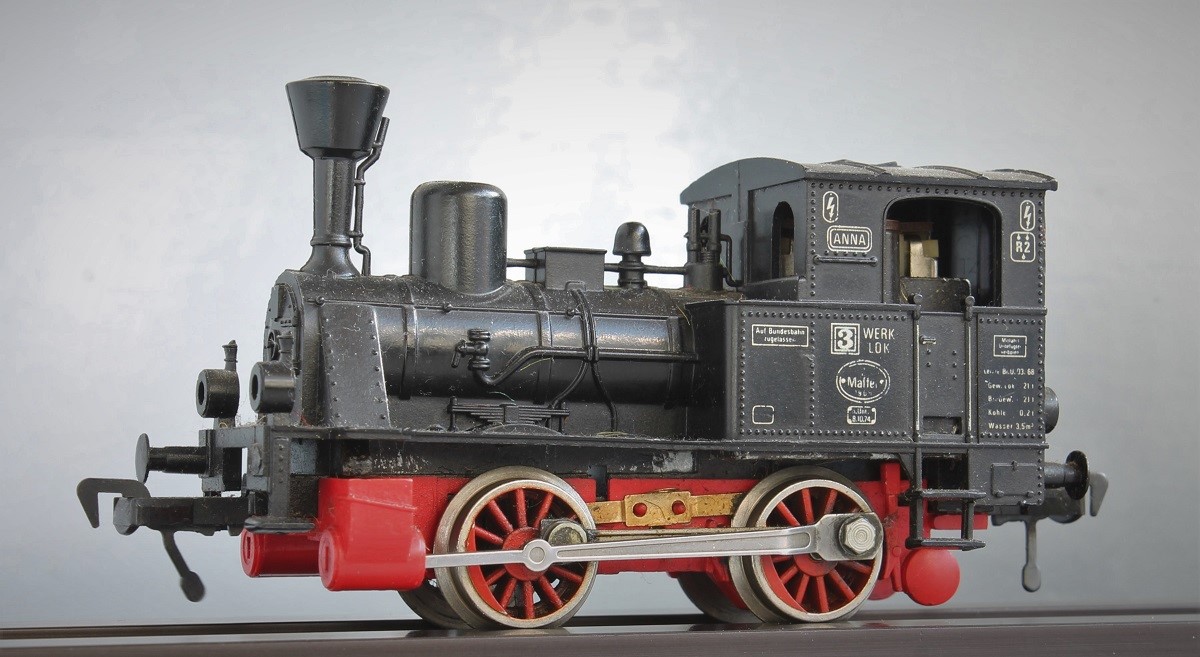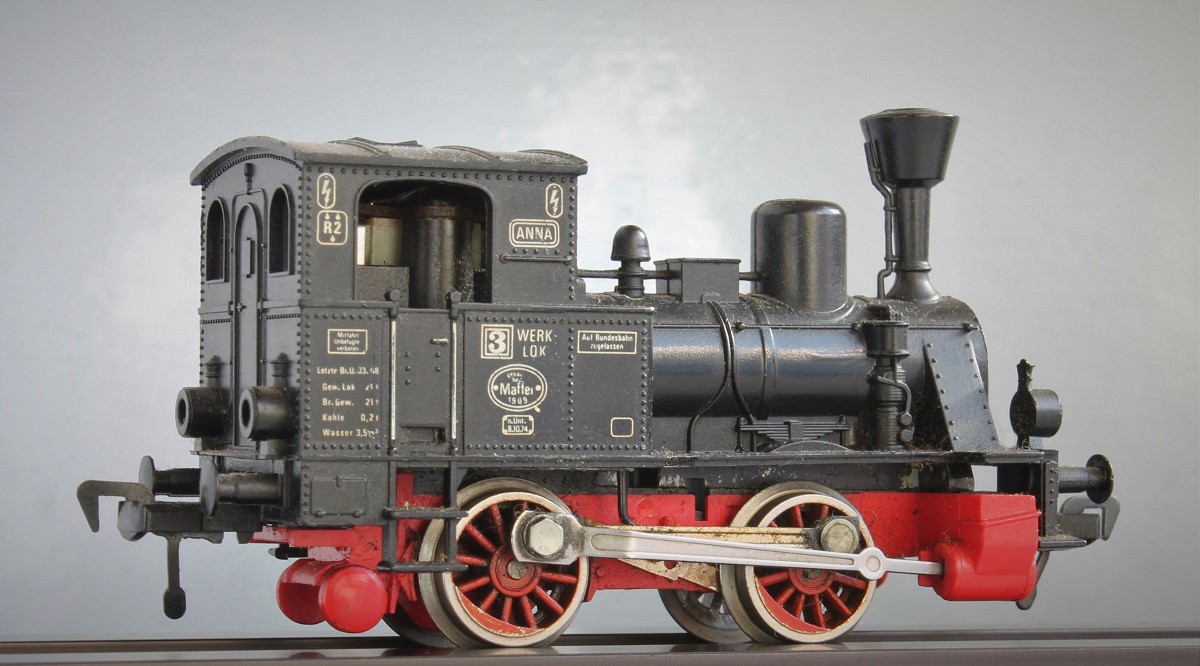 Fleischmann 4000 (Anna)
One of the last shots I made was of Märklin's upgraded E 19 12 (New 2018), now with white wheel rims, red panto's and a more shiny livery...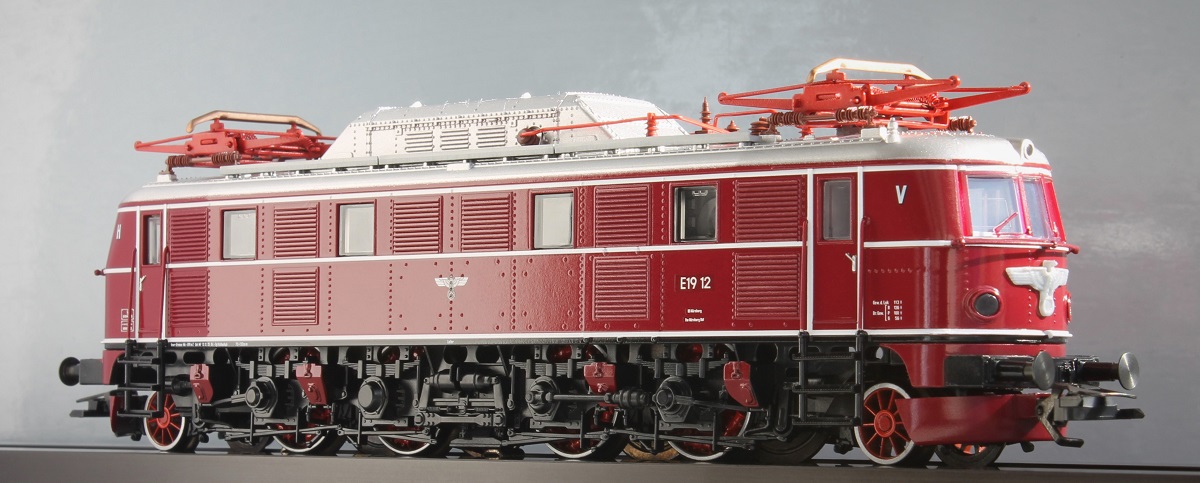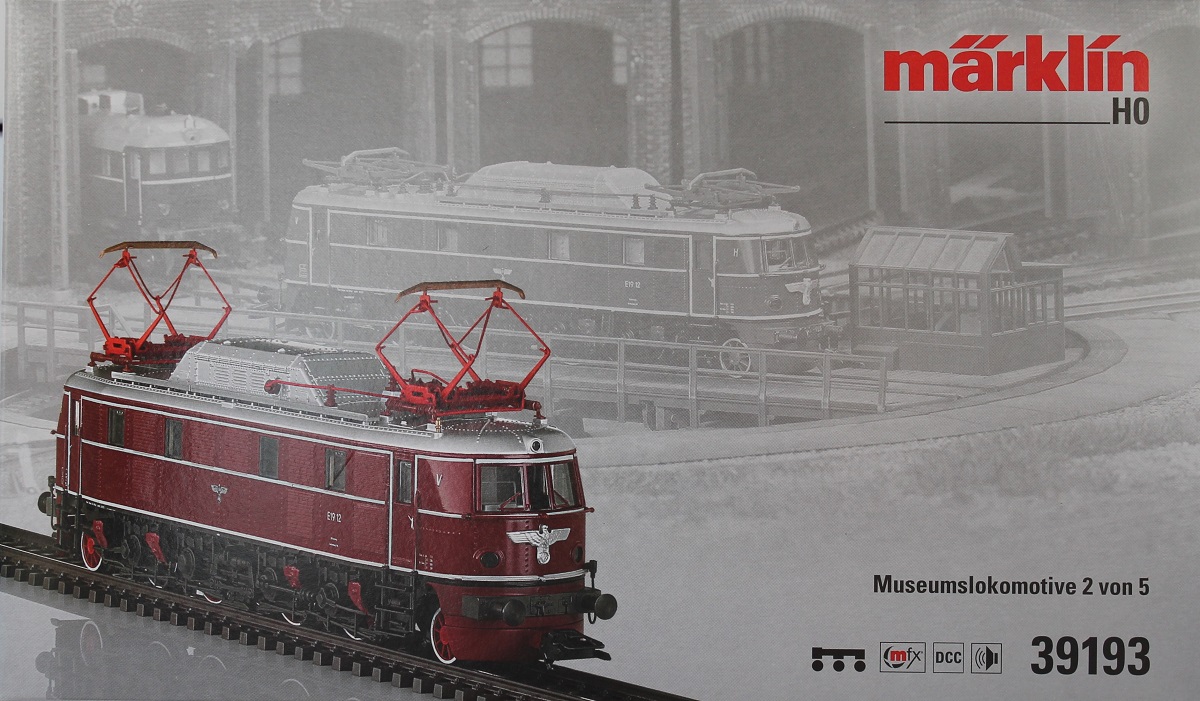 to be compared with the 1994 version: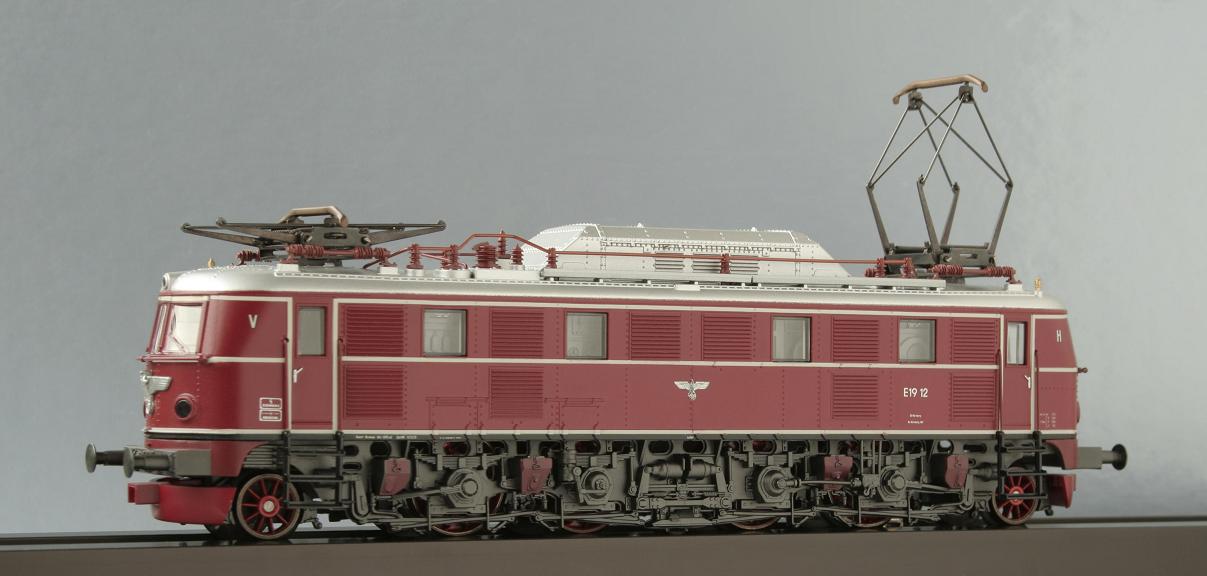 Märklin 3769 (1994)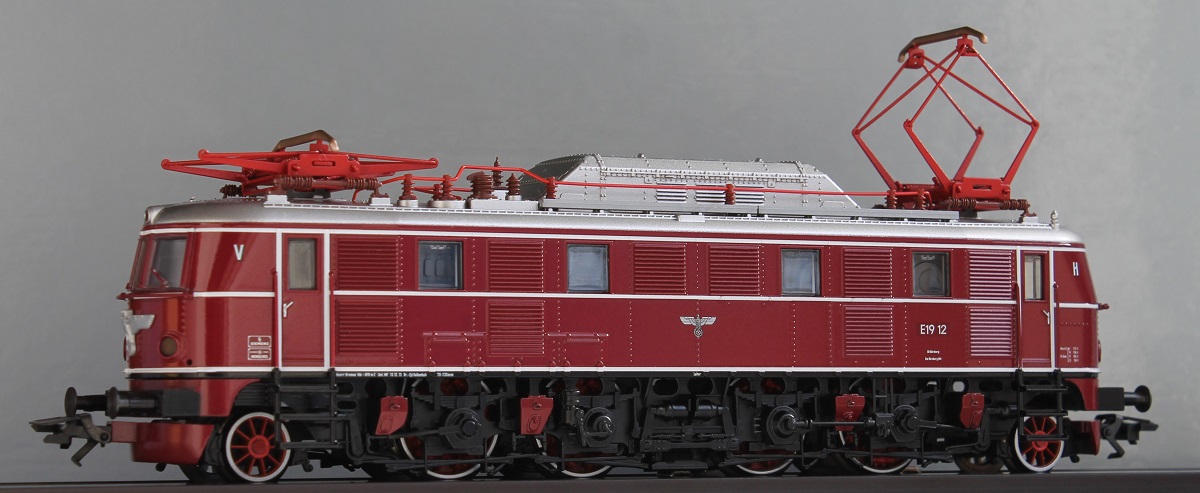 Märklin 39193 (2018)
13.9.2018
On the Internet I found out that Märklin has made a Württemberg C locomotive long before the H0 model appeared in 1988. It's a gauge 1 model of earlier days:

Märklin H 4021 ~ photo: Lankes Auktionen (probably the model from 1912)
25.8.2018
Some new scale H0 items have arrived in the shop. This time I was asked to shoot two Gauge 0 steamers for selling them on eBay.
Since I am merely doing H0 Scale models, it was a pretty challenging job to have Gauge 0 models on my not too large display in a not too spacious environment...
But I guess it worked out quite fine.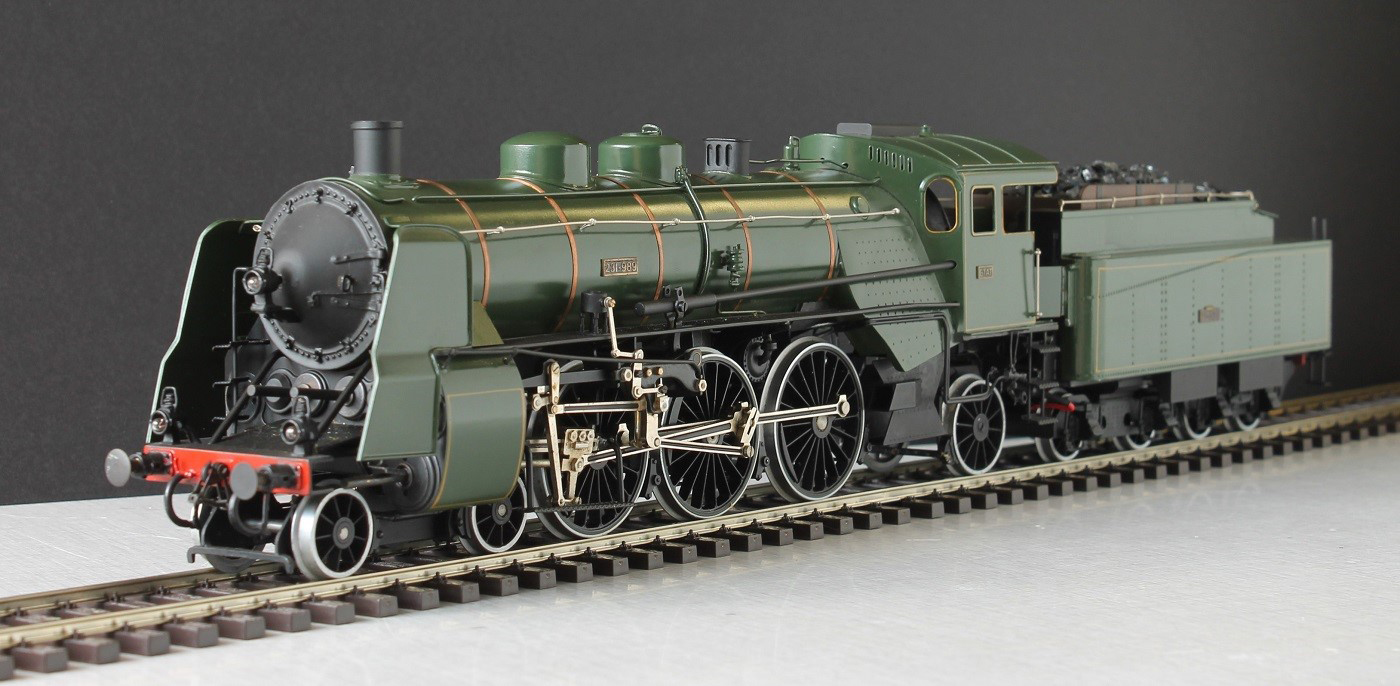 Spring Spur 0 ~ Bay. S 3/6 as ETAT Nr. 231-989 der Société Nationale des Chemins de fer Français (S.N.C.F.)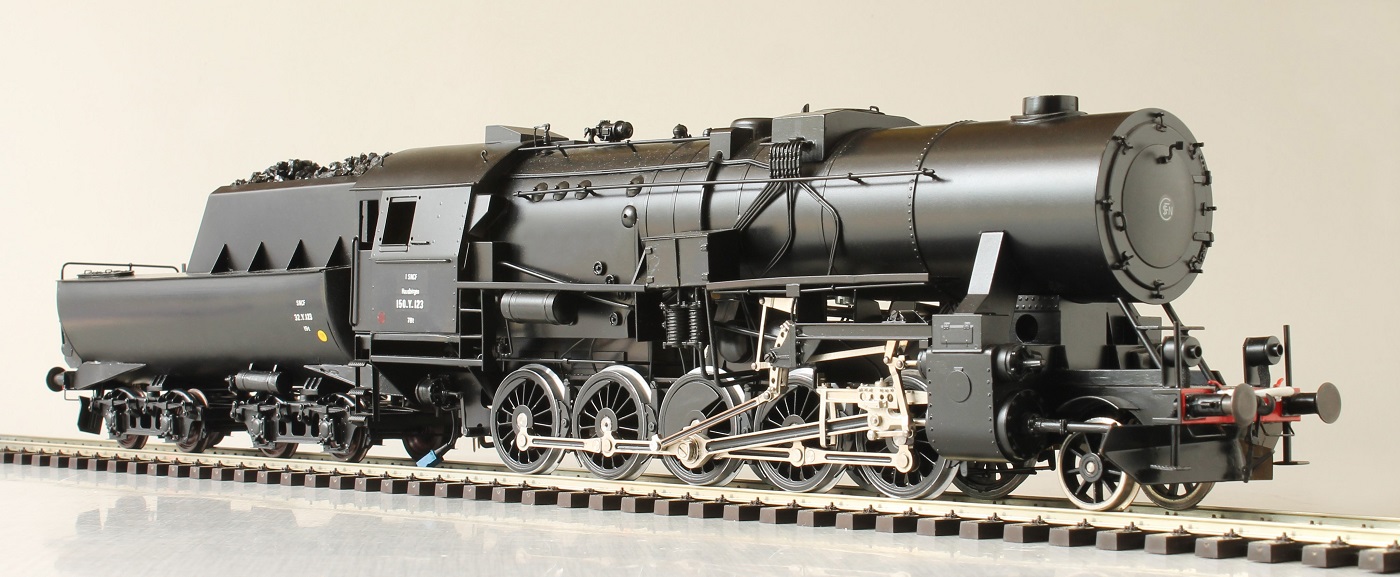 Spring Spur 0 ~ 150.Y.123 der Société Nationale des Chemins de fer Français (S.N.C.F.)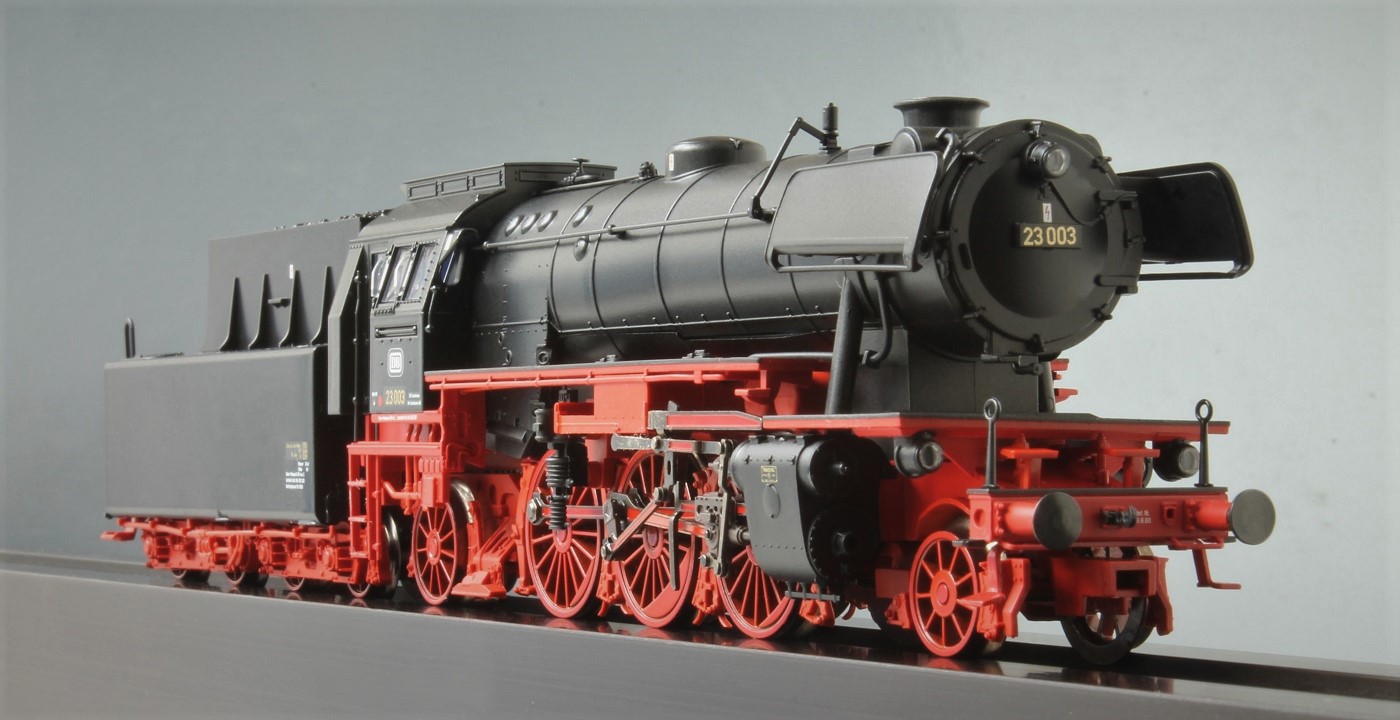 Märklin 39236 (New 2018)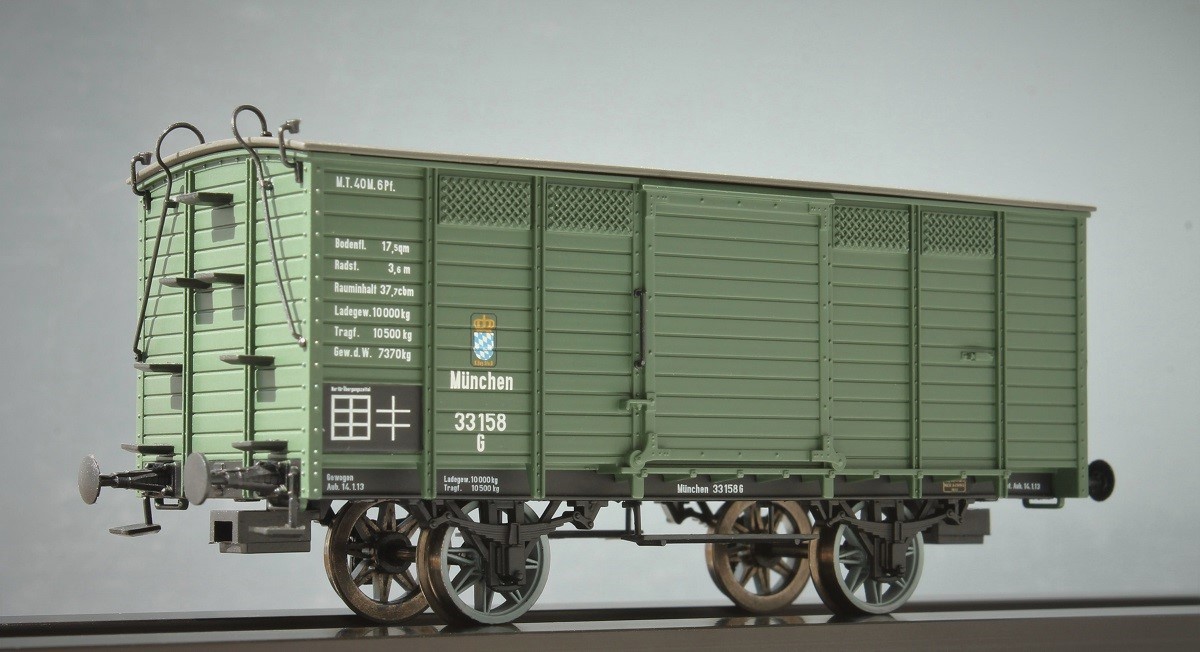 Brawa 48027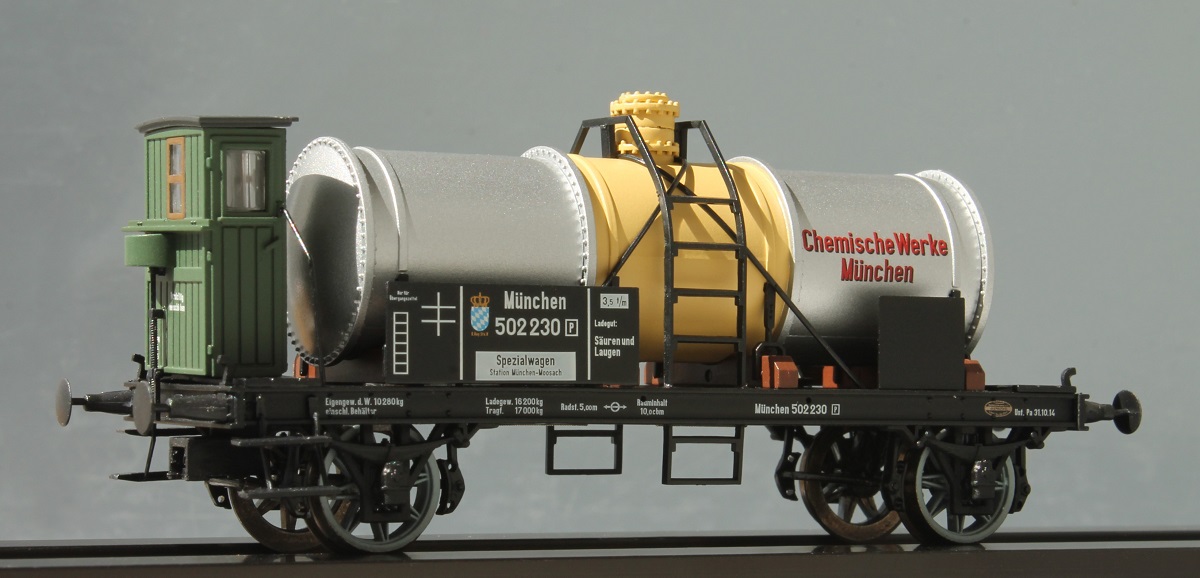 Brawa 47866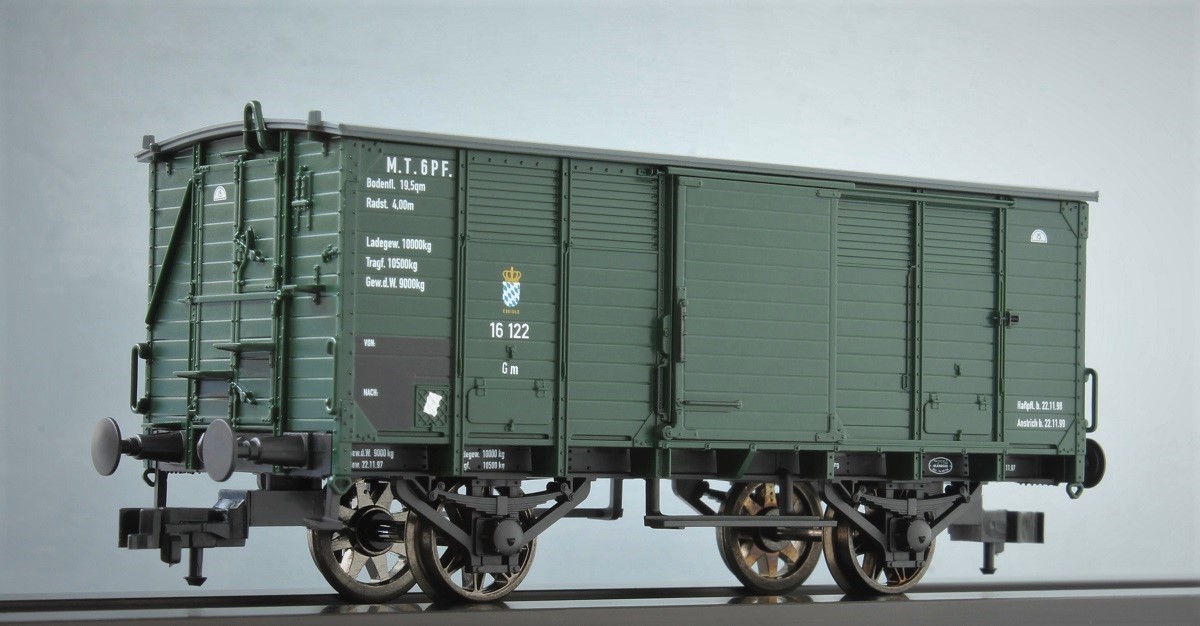 Fleischmann 535306
Fleischmann 591202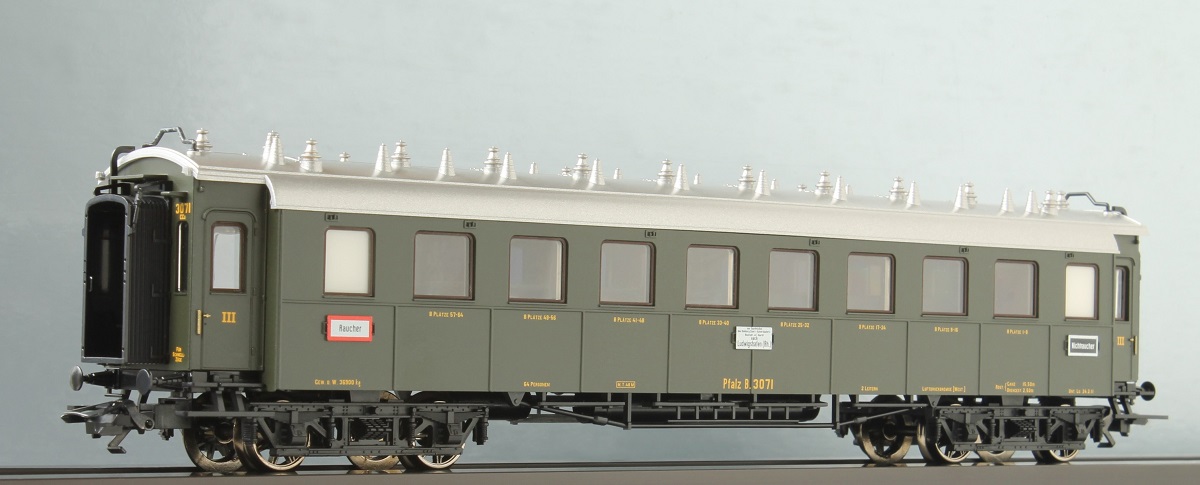 Märklin 41354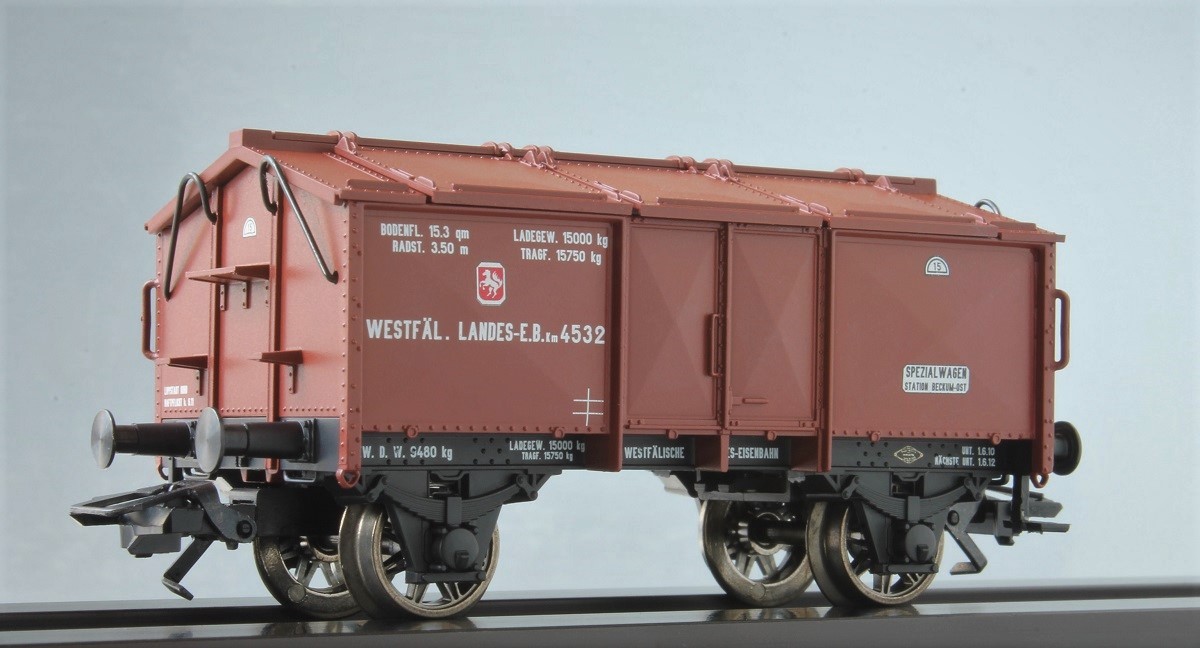 Trix 24818 Club Modell Wagen 2018
31.7.2018
I happened once again to read the story of the Cochemer Bahn written by Rogier Donker. It must have been rewritten during the years.
See for yourself a lovely tale by a fine writer's hand...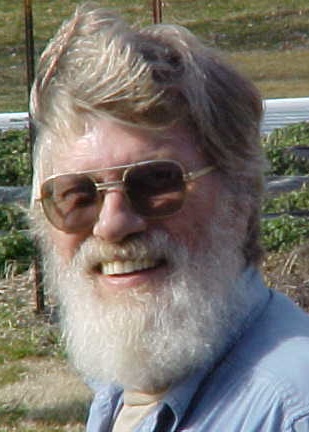 27.7.2018
Today I received a limited edition cargo van of the Prussian Railways (KPEV):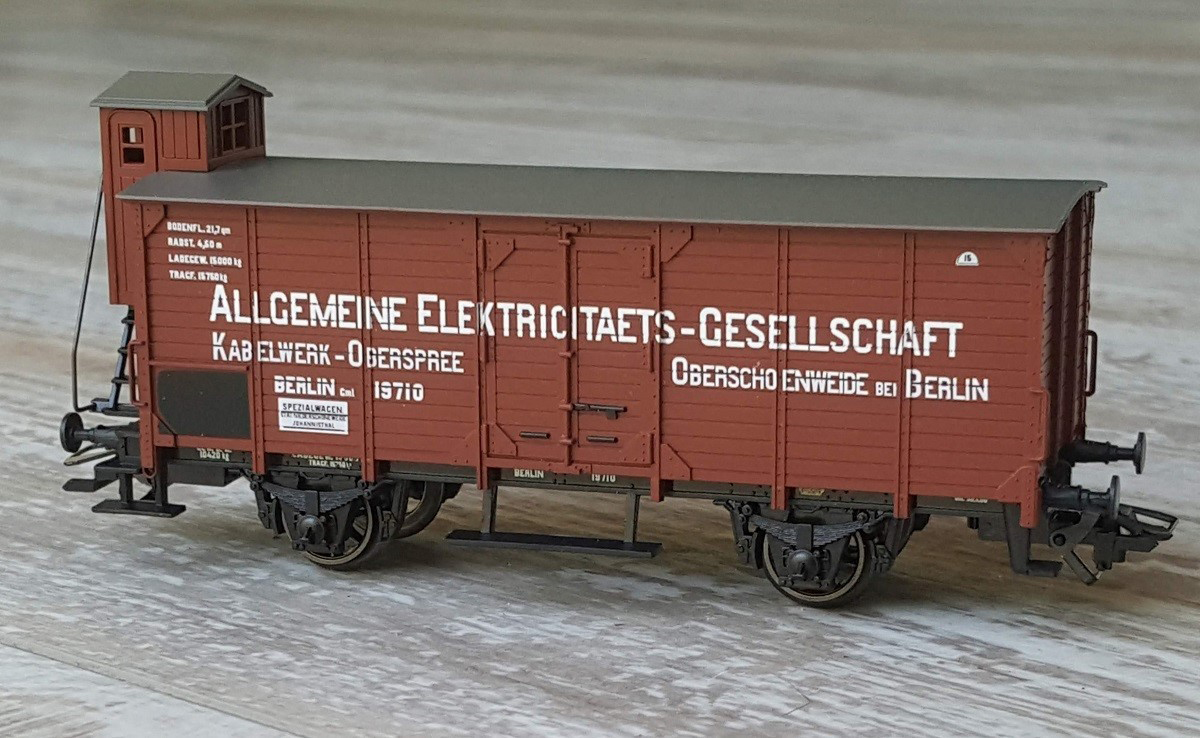 Märklin 48932
15.7.2018
Brassdepartment presented this model from Mr. Noll of a little known type built for a little known railway company. It is one of four 1'C passenger tanks intended even for express duties, built in 1899 by Maschinenbaugesellschaft Karlsruhe for the Main-Neckar-Eisenbahn (MNE or MNB). The MNE ran the main line from Frankfurt to Heidelberg. The locos received the numbers 91 to 94. In 1902 the MNE was divided along the state border between Hesse and Badenia and integrated in the respective state railways. The locos 91 to 94 received the Prussian numbers "Mainz 6691" to "Mainz 6694" and were integrated into class T5.
The basic layout of the locomotives shows many similarities to two tank engines delivered in 1900 by the same builder to the Badenian state railway as their class VIa. But besides several detail alterations the VIa had a longer wheelbase and much smaller driving wheels – only 1430 mm in contrast to 1726 mm for the drivers of the MNE T5."
I received this additional and correct information from mr. Martin Albers, Switserland (11.3.2021).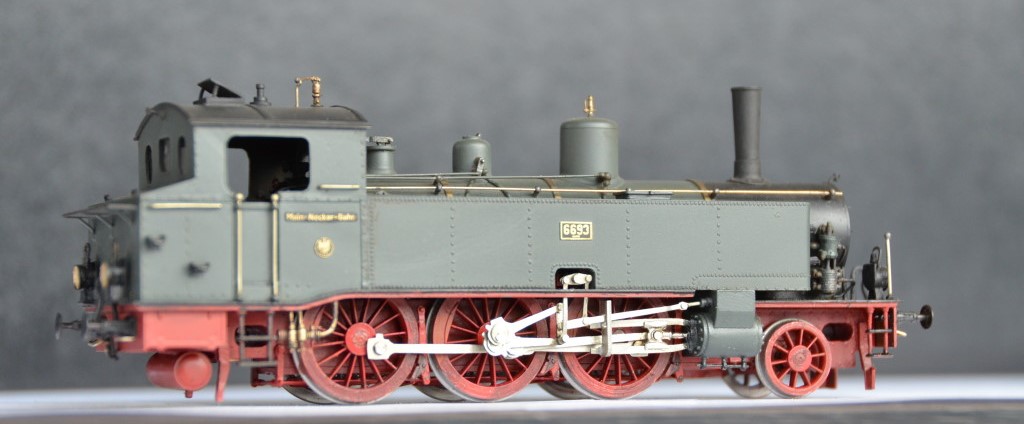 22.6.2018
Working on my ModelsList, I discovered a "new" steamer: the Badenian class IVb. This model is offered by Schnabel and constructed by Mr. Noll.
Since the Bad. IVb was taken out of service long before the DRG number scheme was completed, this class fails in my ModelsList.
As a tank locomotive - type1'B1' - it would have been registered as Class 71. In Era 1 livery this Baden IVb carries road number 340 (Maffei 948/1875).
The pictures were taken by Brassdepartement.com (with a little doctoring by me).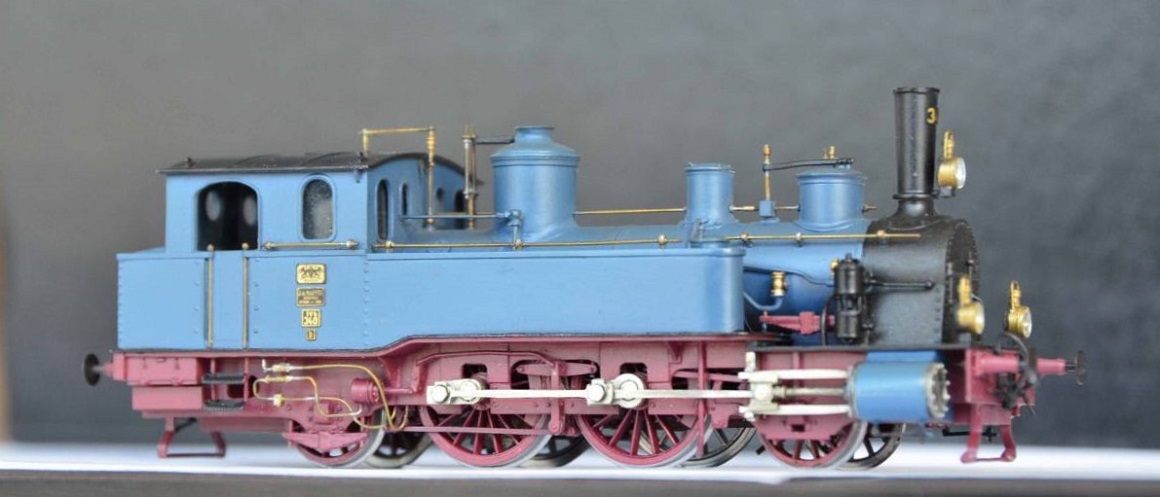 21.6.2018
Very interesting...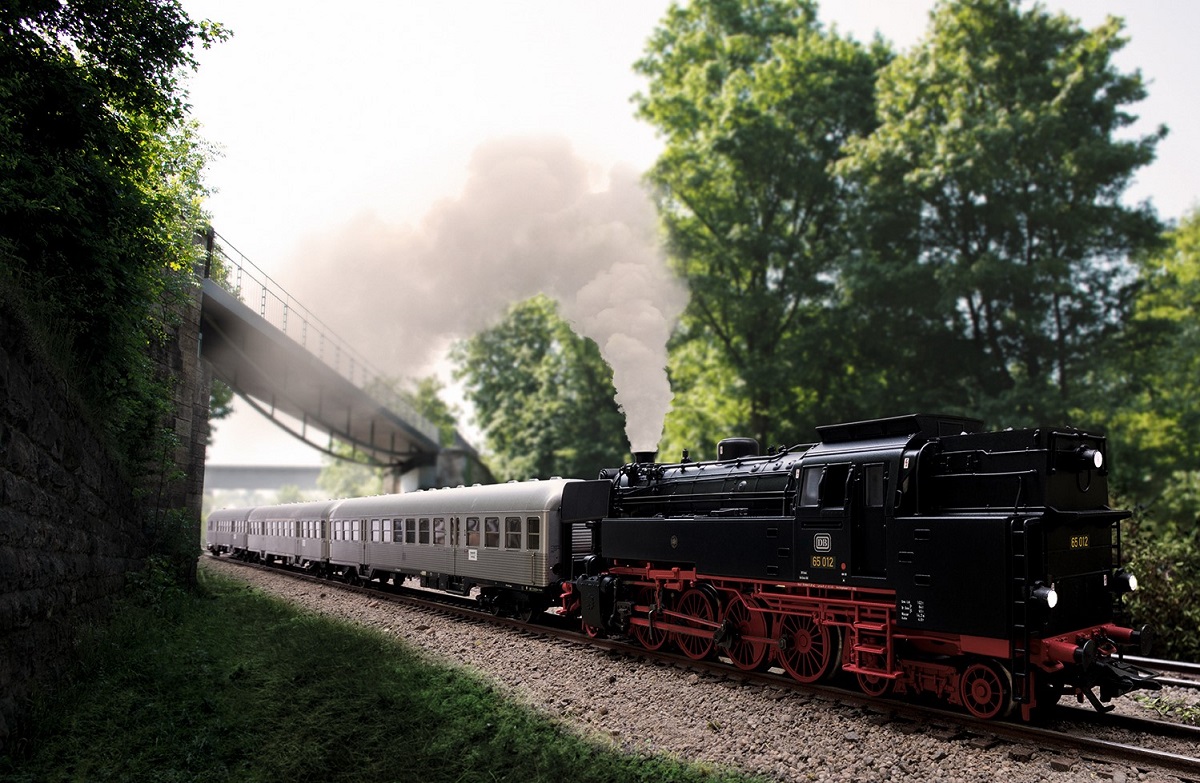 Neubaulokomotive Baureihe 65.0 ~ Märklin 39650 as 2nd Insider Model 2018
13.6.2018
From Turkey, I received a very kind letter considering the implementation of Teoman Kardaslar 's models on my website (see 29.5).
See Guestbook.
29.5.2018
Teoman Kardaslar from Turkey sent me some pictures of his TCDD Class 45002, derived from the Prusian G 8.2.
He made this model out of parts of Piko and Roco and asked me to share them on this site.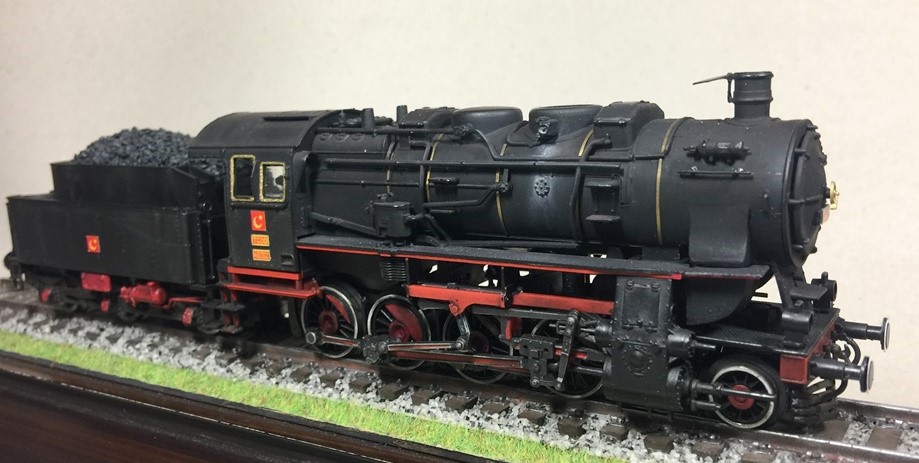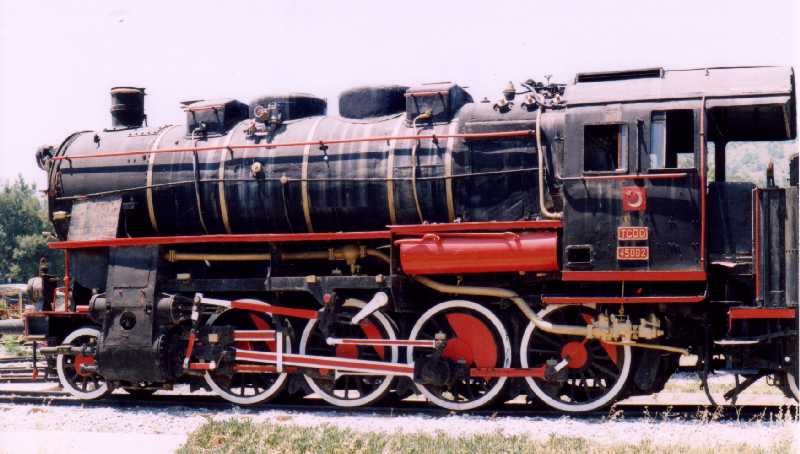 10.5.2018
Visiting Stadskanaal Railroad (Groningen, The Netherlands), I happened to shoot three German steamers, of which 52 8060-7 was "on the road". Both 52 8082 and 52 5933 - the latter in Russian livery - were waiting for repair in the shed. Class 50 3645-7 was "all rusty" outdoors, without her cabin.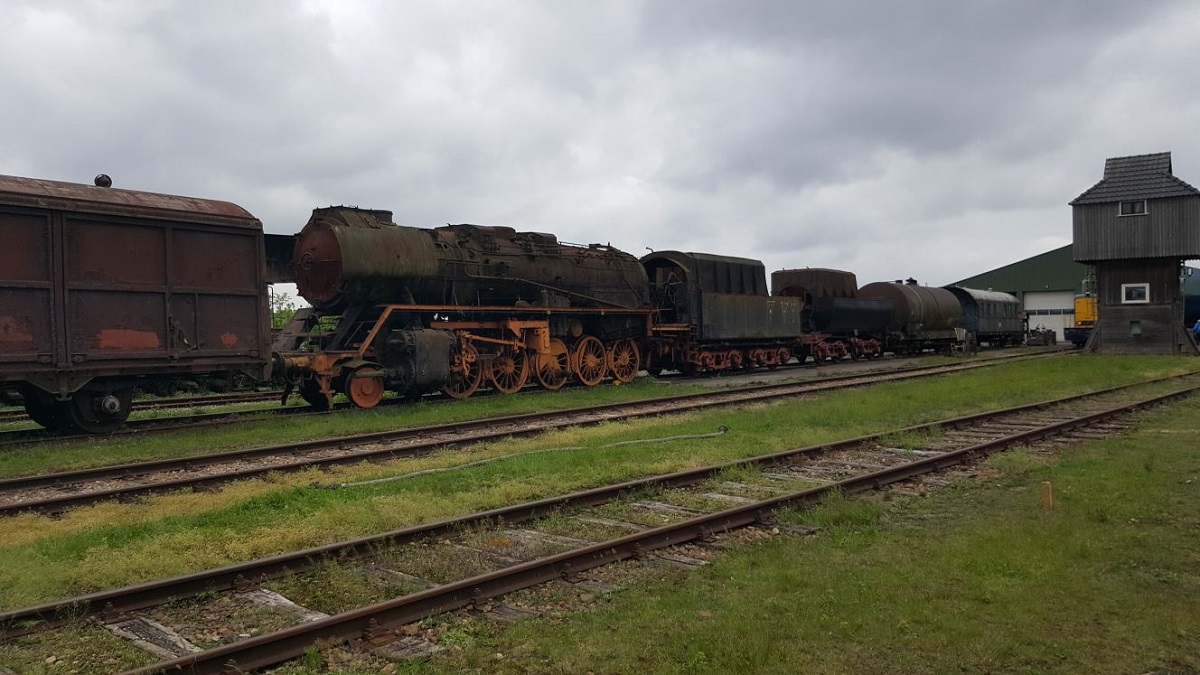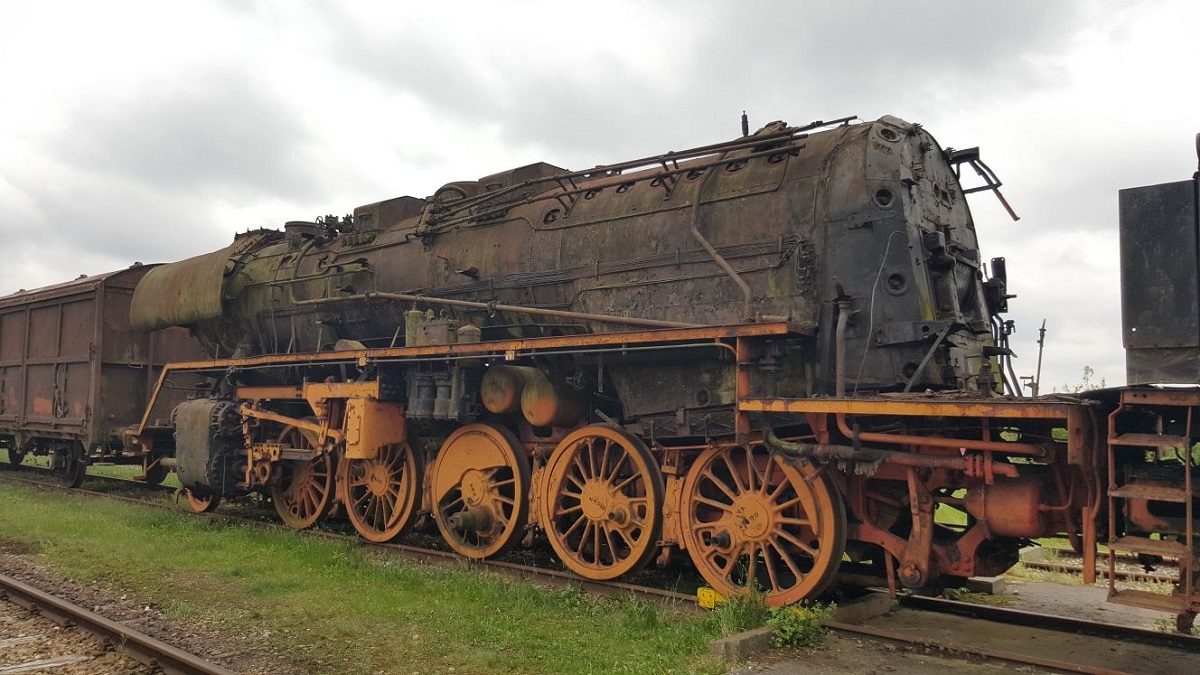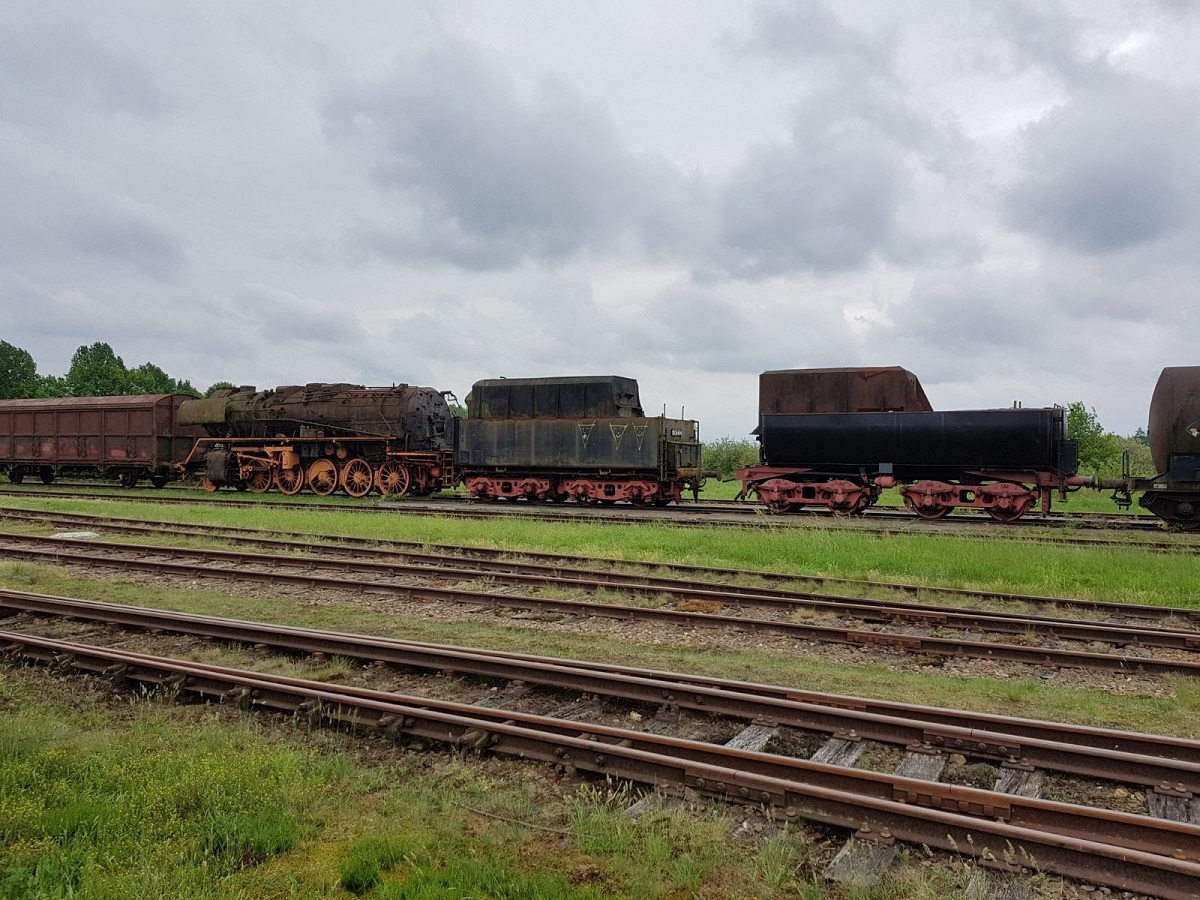 50 3645-7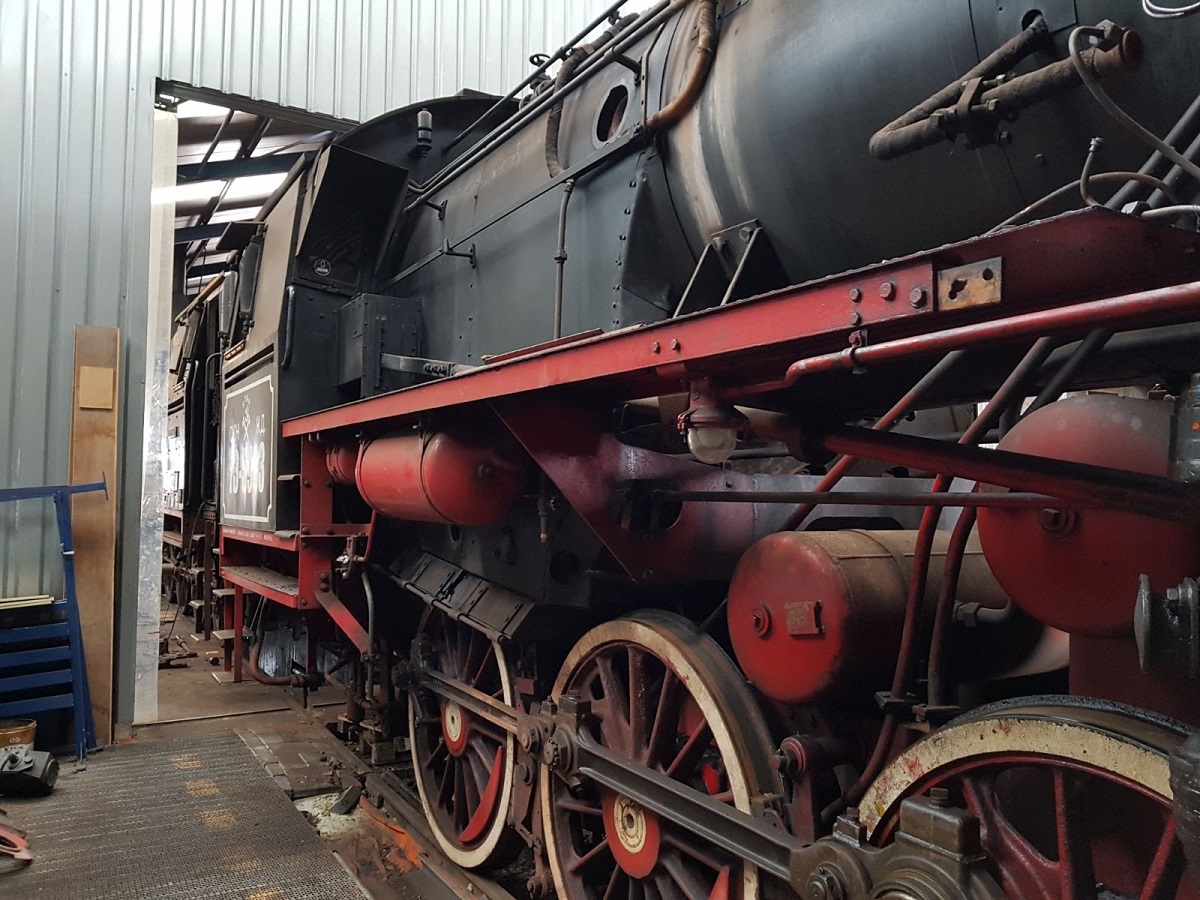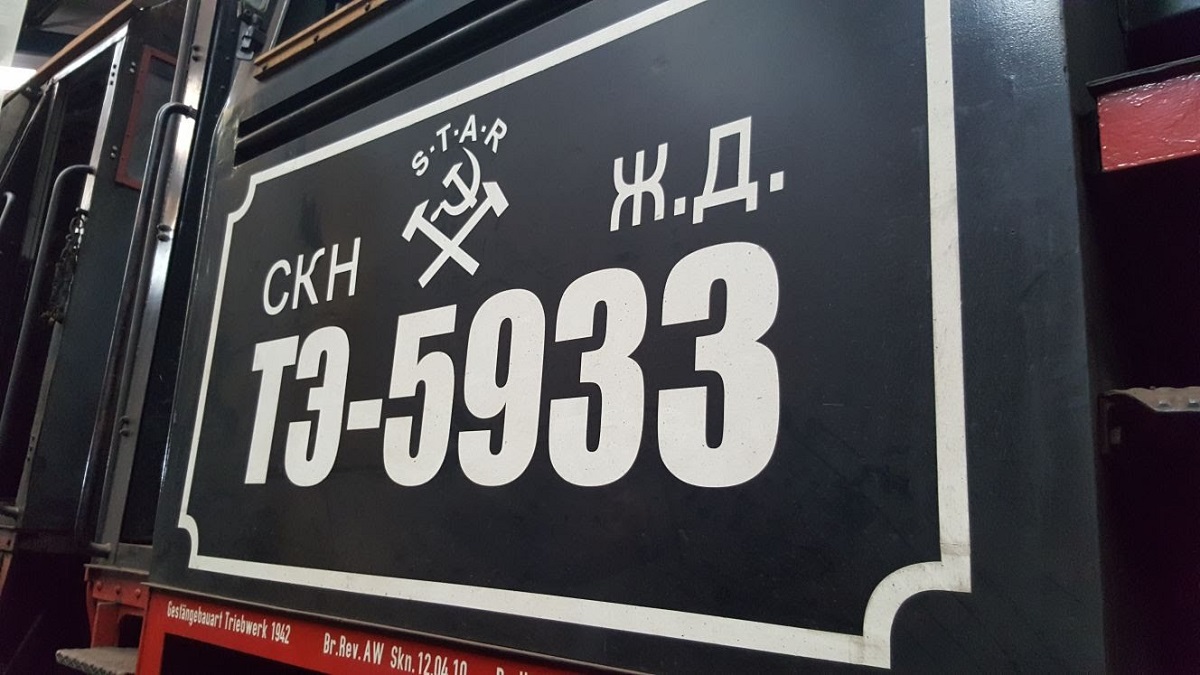 Baureihe 52 5933 als TE-5933 (AW Skn = Ausbesserungswerk Stadskanaal)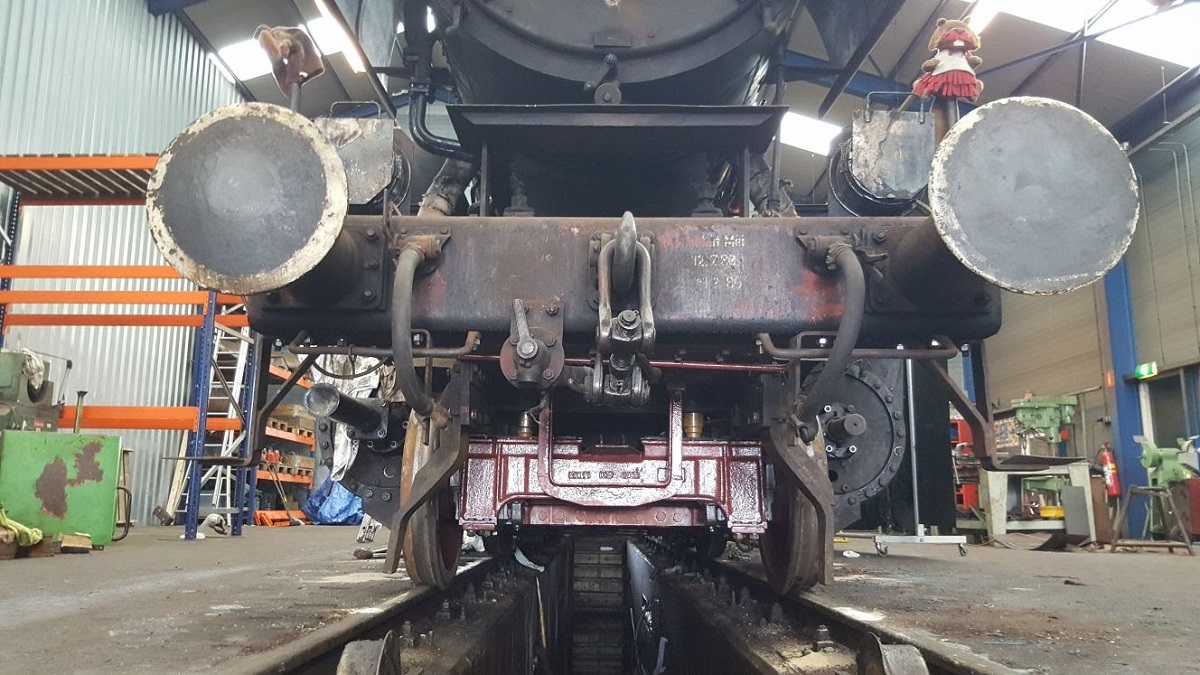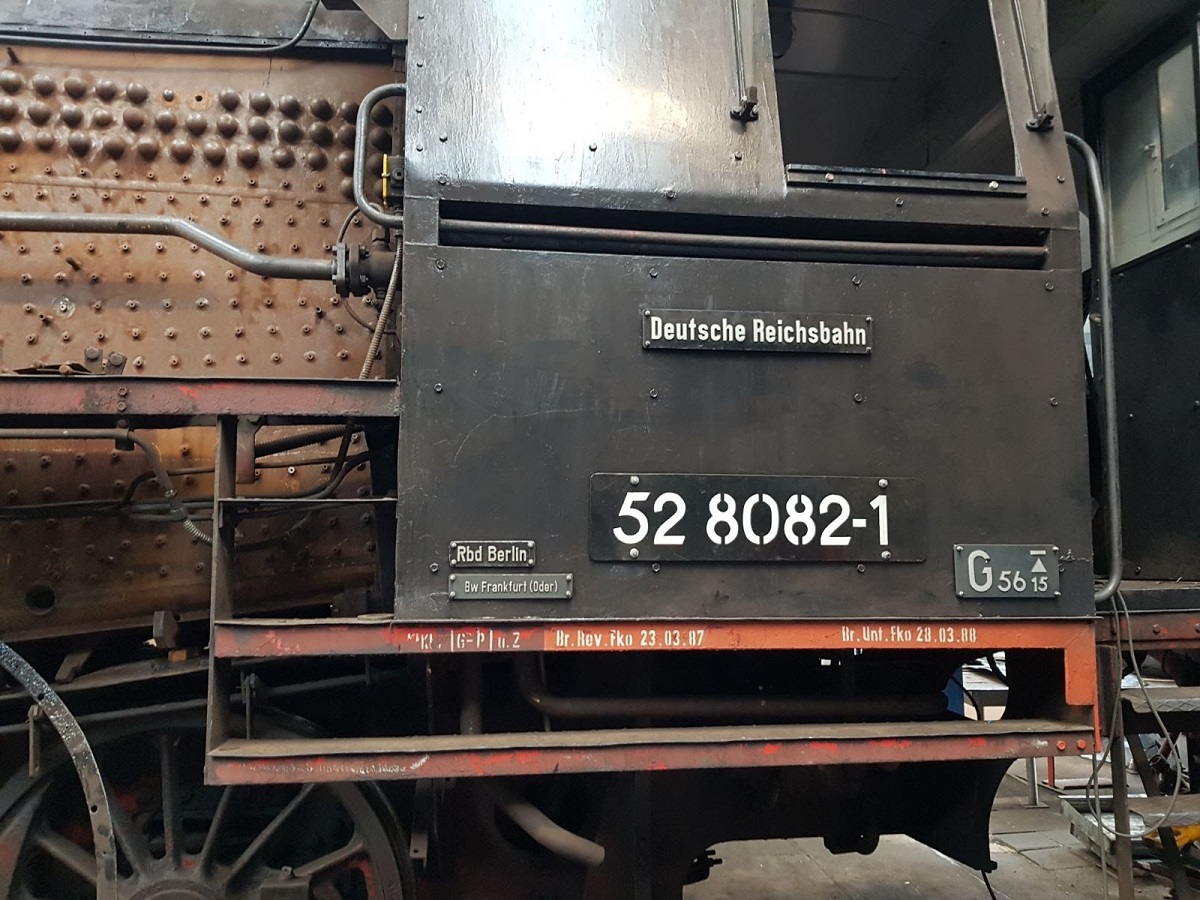 Baureihe 52 8082-1
2.5.2018
With the DRG 42 506 - a true "Kriegsdampflokomotive" in mind, I had the idea of shooting all three released viz. planned WW II socalled 'war locomotives' together.
If we disregard Class 534.0 as KDL 2 for the Böhmische-Märische-Bahnen, this means:
KDL 1 = Baureihe 52
KDL 2 = Baureihe 42
KDL 3 = Baureihe 53 (Mallet)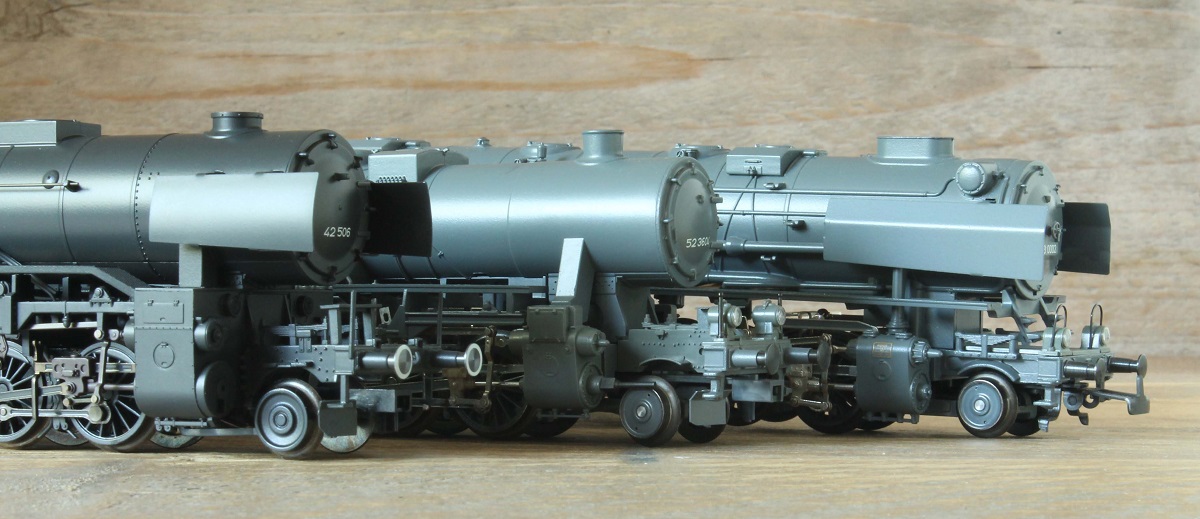 Märklin 39044, 3793 and 3701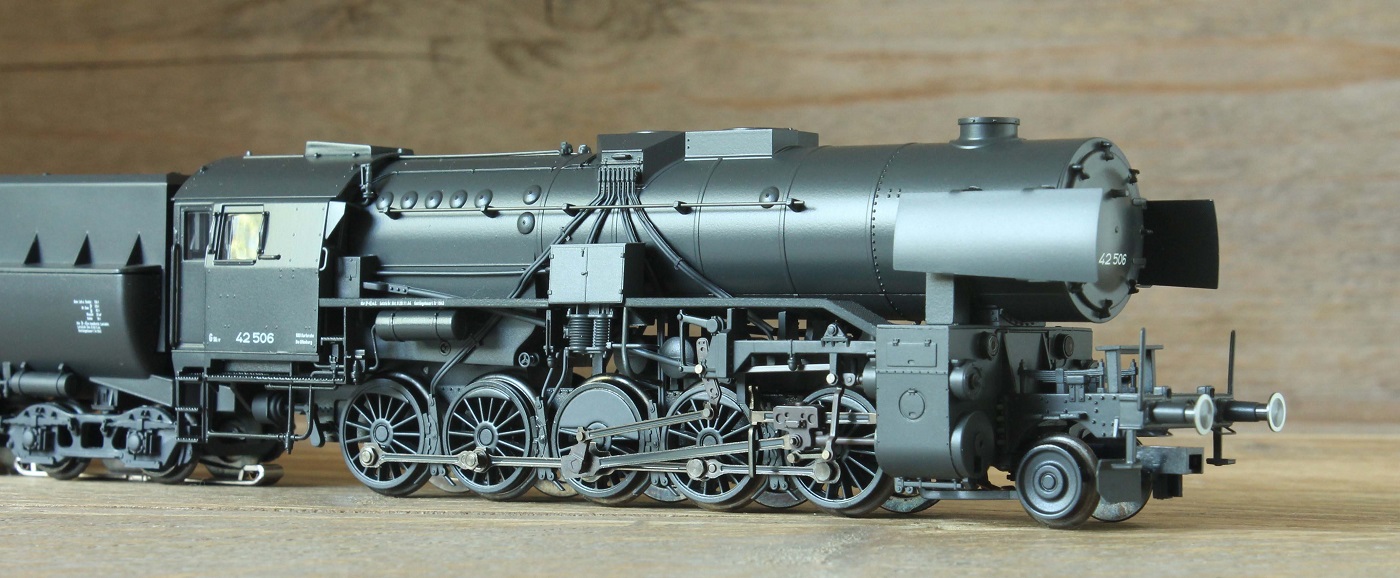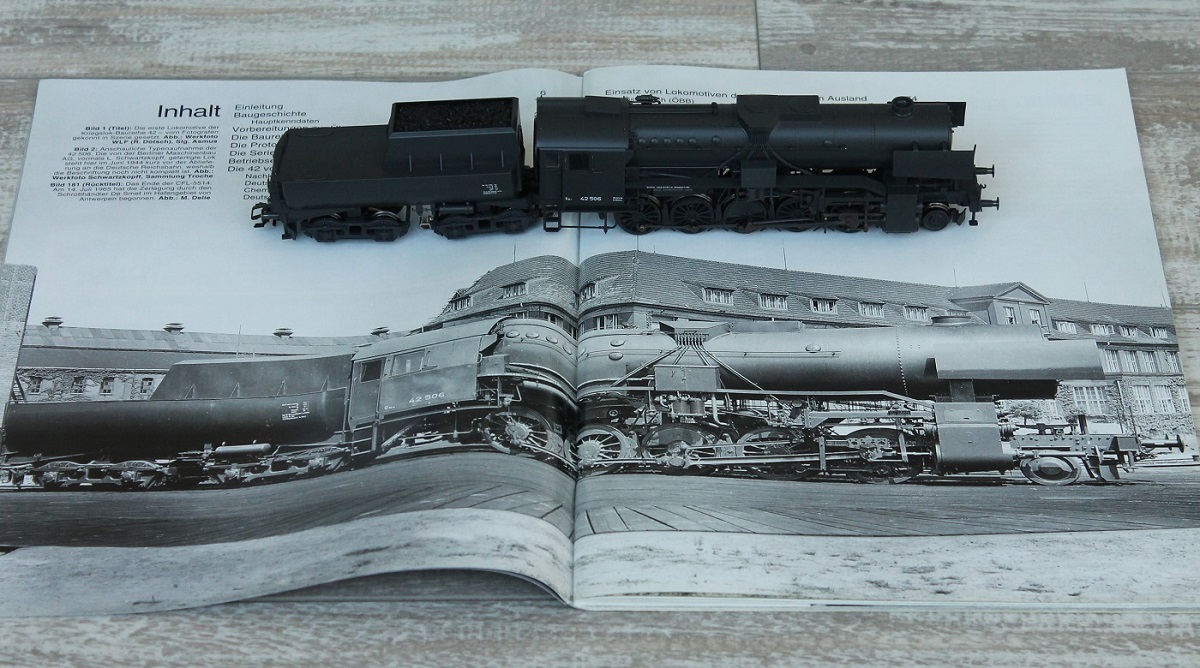 Class 42 506 in model and for real ~ EisenbahnJournal III/9 (p. 4-5)
24.4.2018
Märklin New 2018 items arrived at my dealer's today...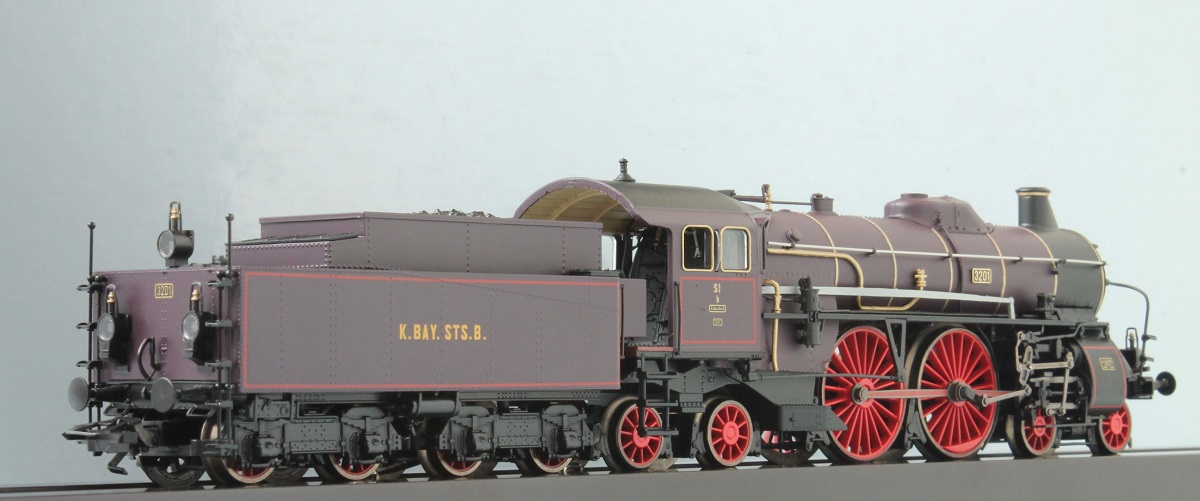 Märklin 37018 ~ Bay. S 2/6 for the PfalzBahn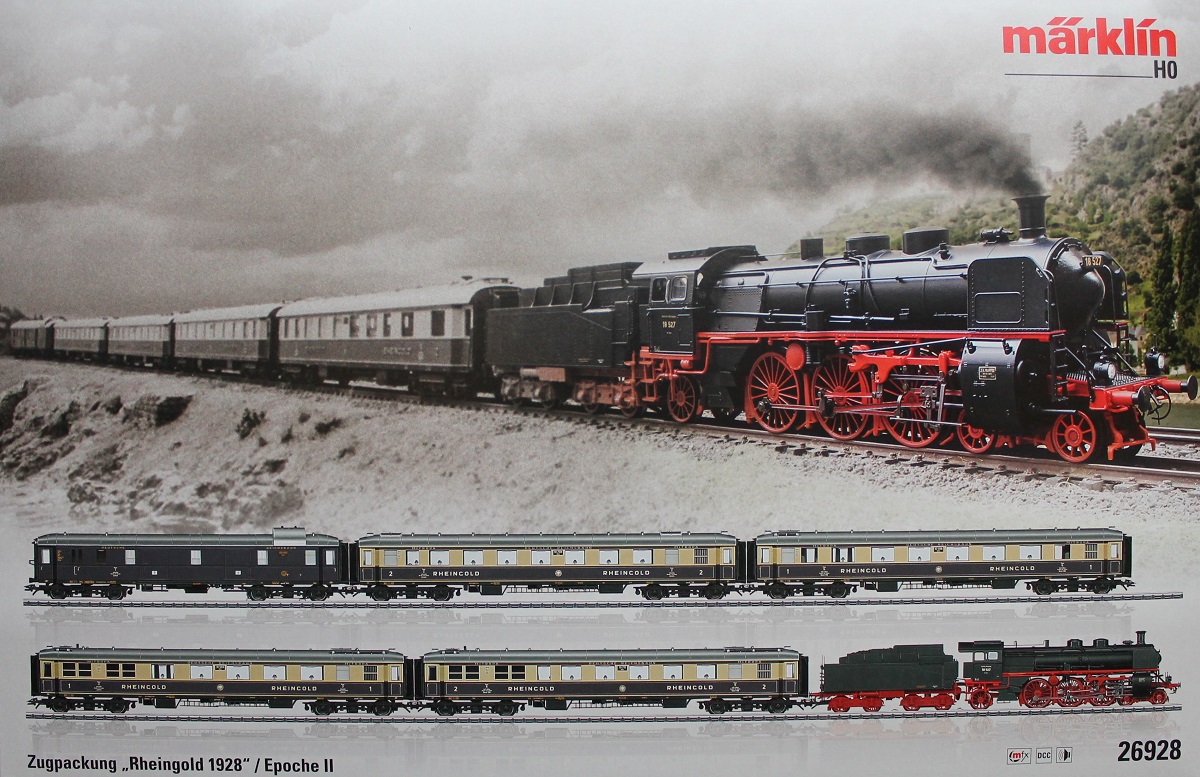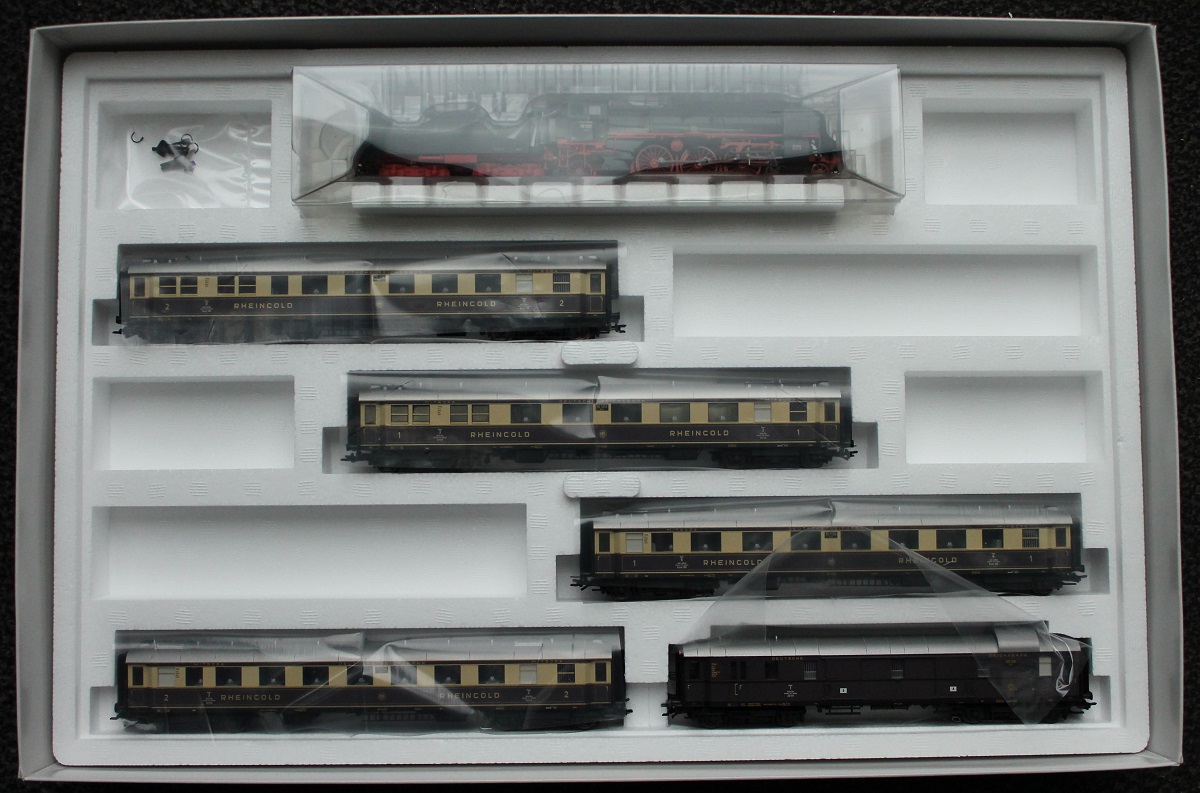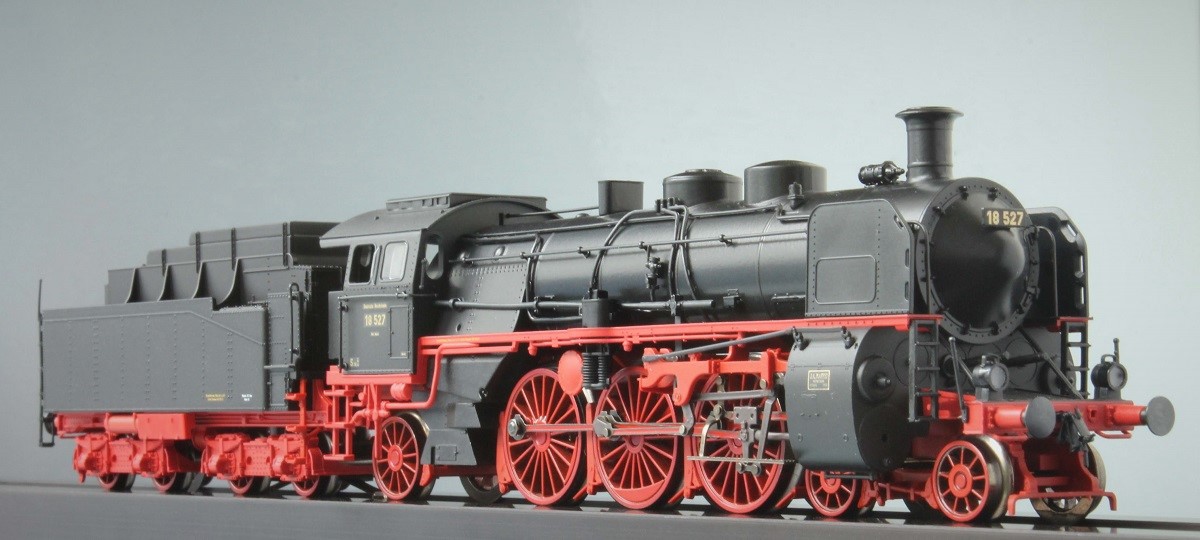 Märklin 26928 ~ Rheingold set der DRG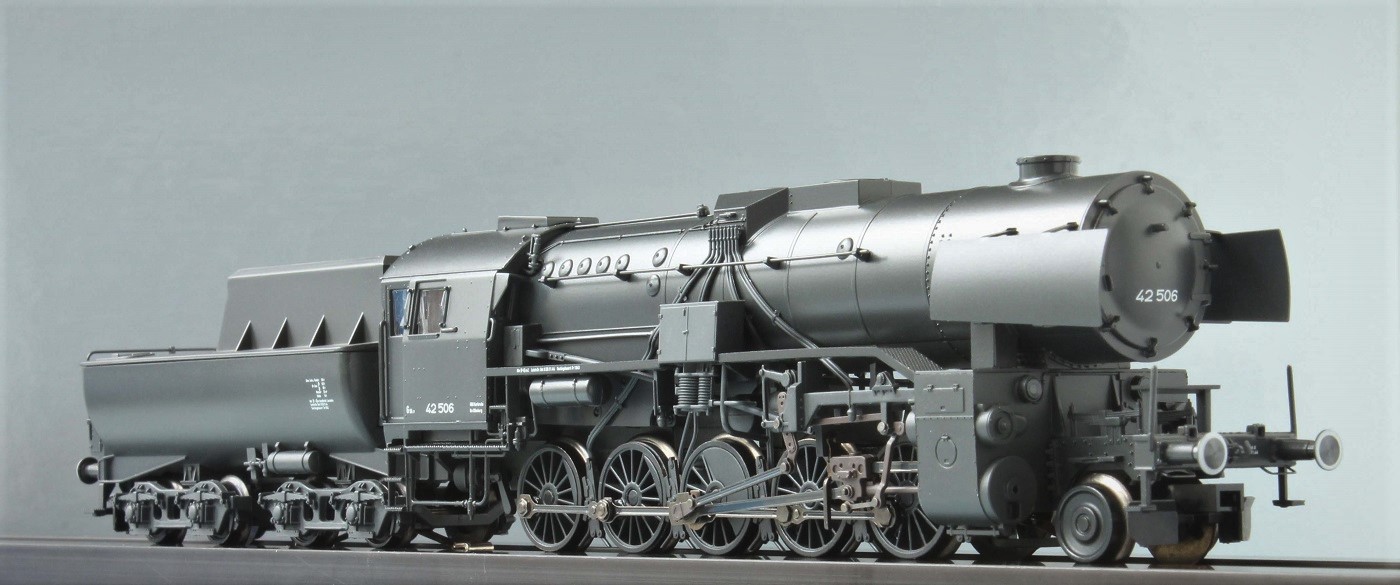 Märklin 39044 ~ Baureihe 42 506 der DRG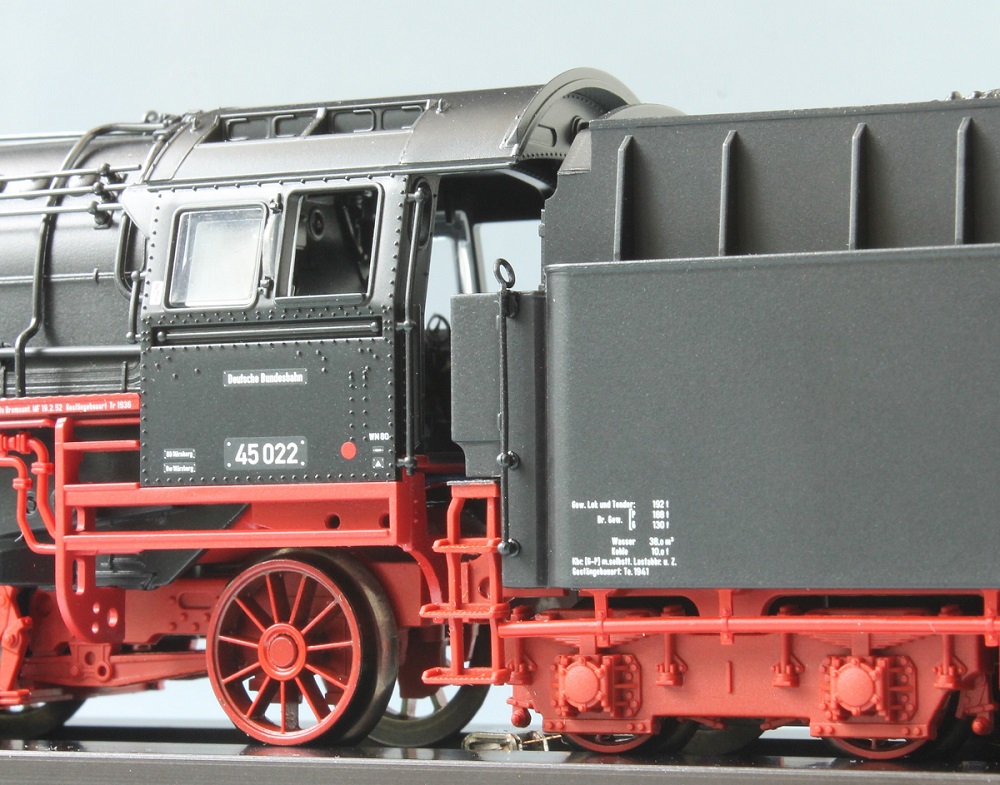 Märklin 37454 ~ Baureihe 45 022 der Deutsche Bundesbahn
Next to these novelties, I was able to add a new 2018 item from Roco to the 'Dutch Collection'. It is the NS 1618 "Almelo", now with RailLogix livery...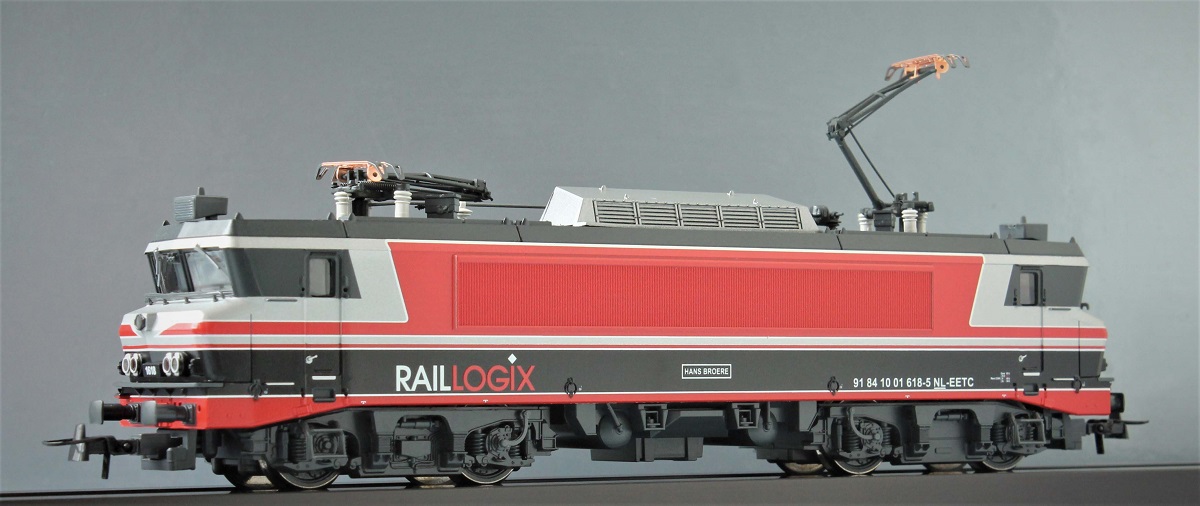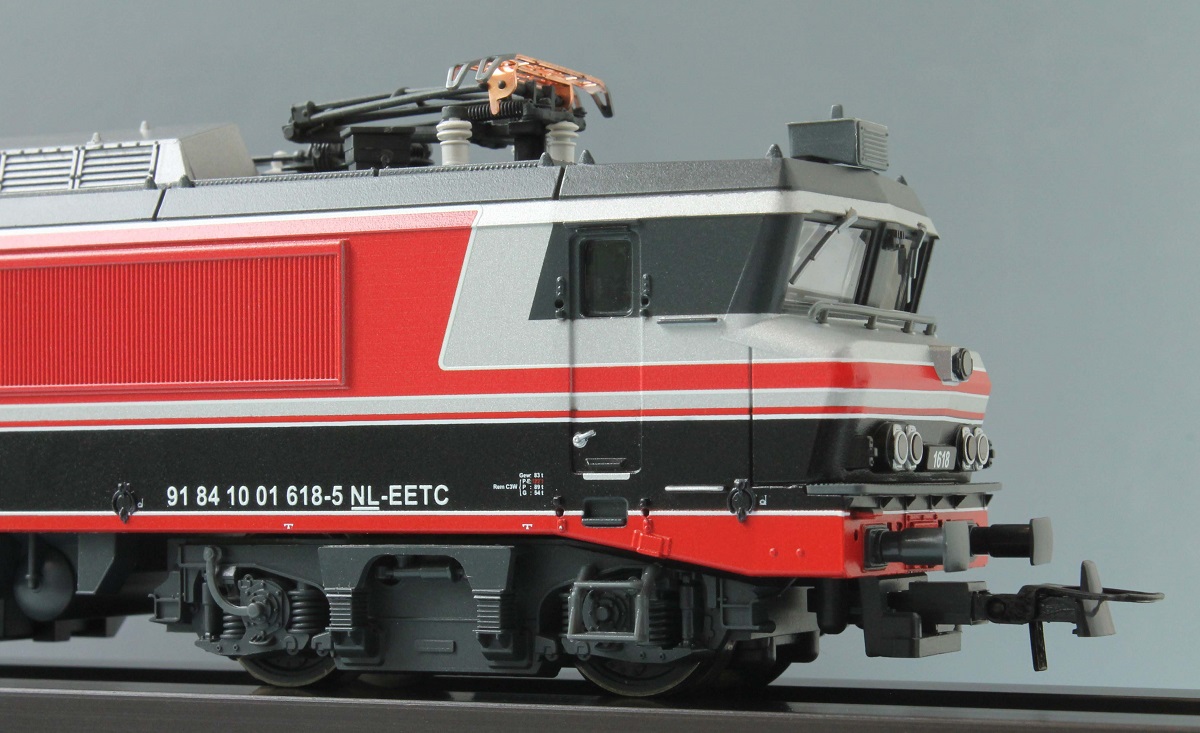 Roco 73688 ~ NS 1618 "Almelo"
7.4.2018
A small photoshoot at my dealer's brought me...

Trix 22376
... which, by the way, reminds me of my 2nd 'big' locomotive that I bought in the 1980's: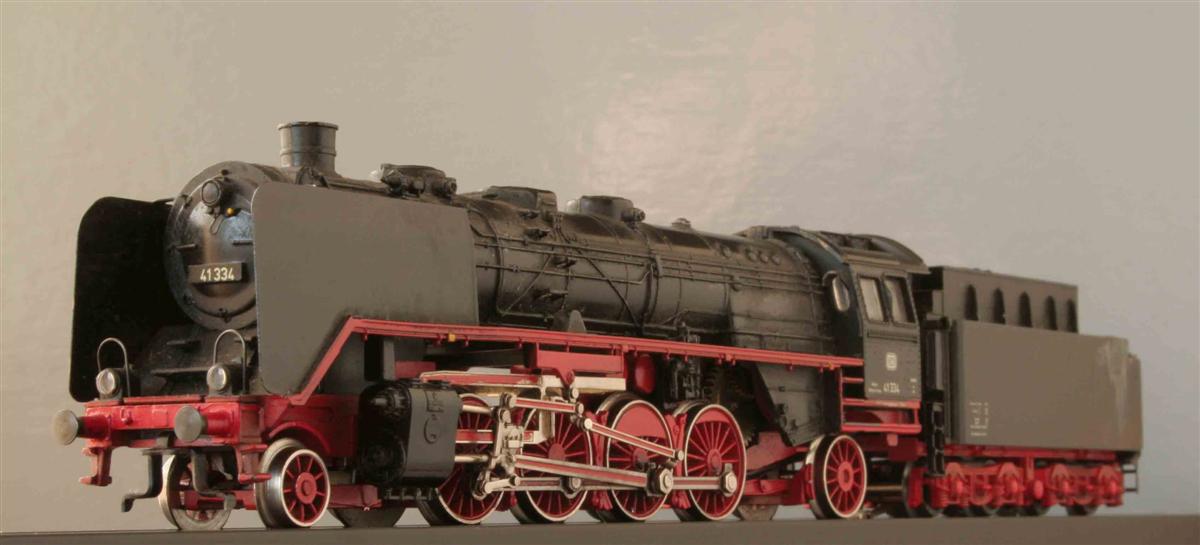 (Märklin 3082 ~ totaliter aliter)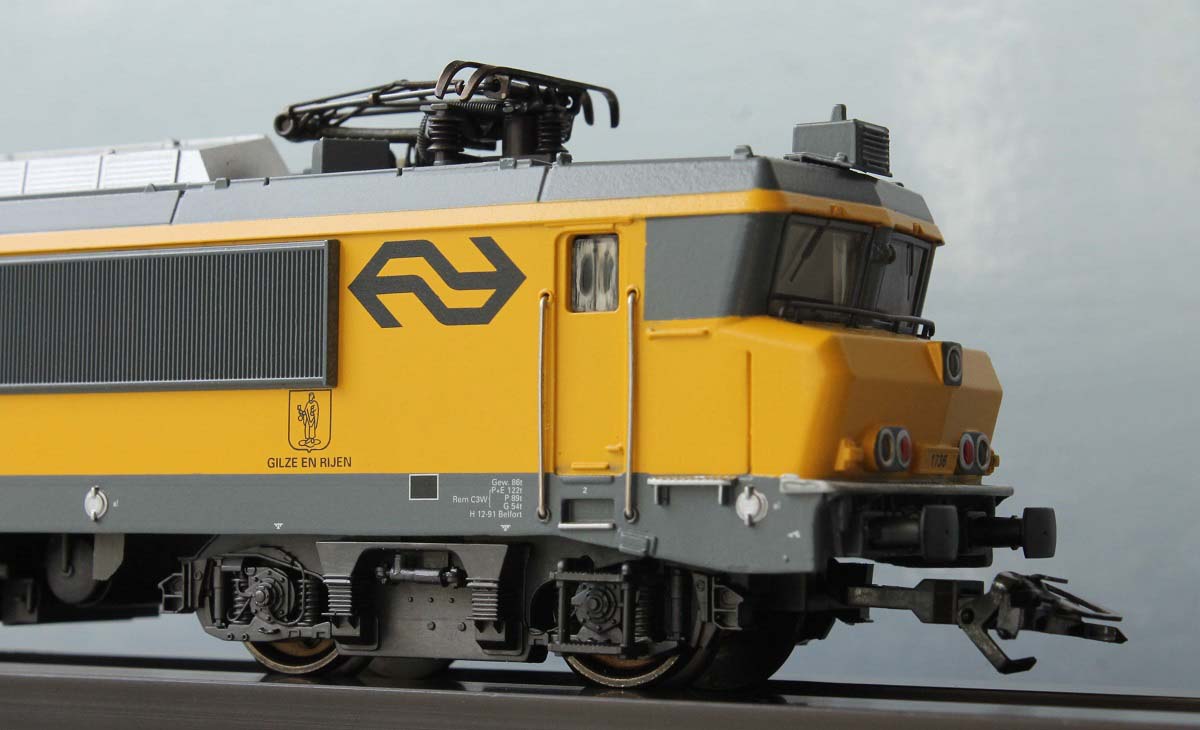 Märklin 3326.4

Roco 73687
11.3.2018
One of Brawa's finest, the G 10 (New 2017) with Doehler & Haass decoder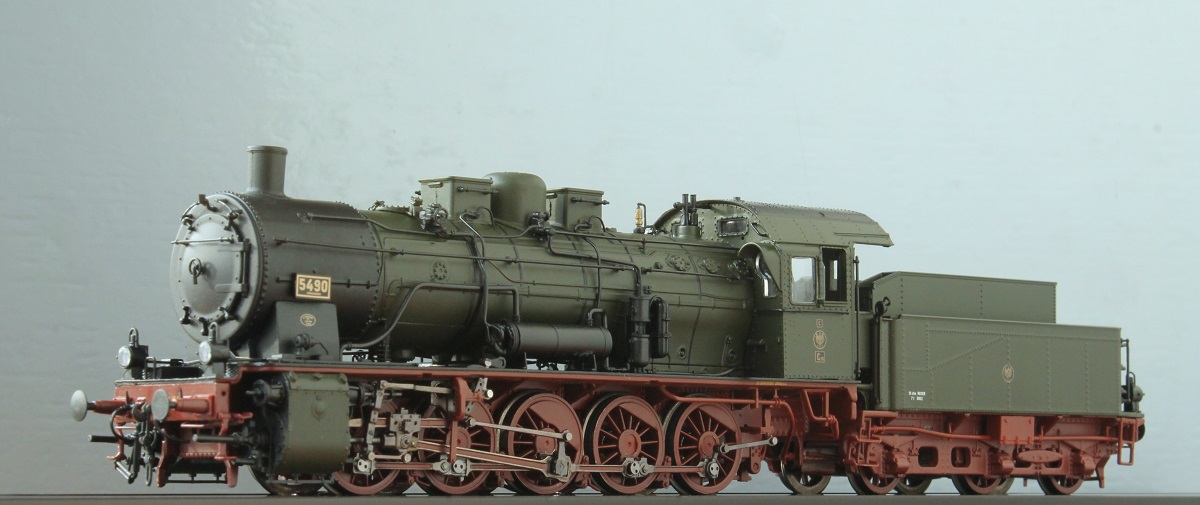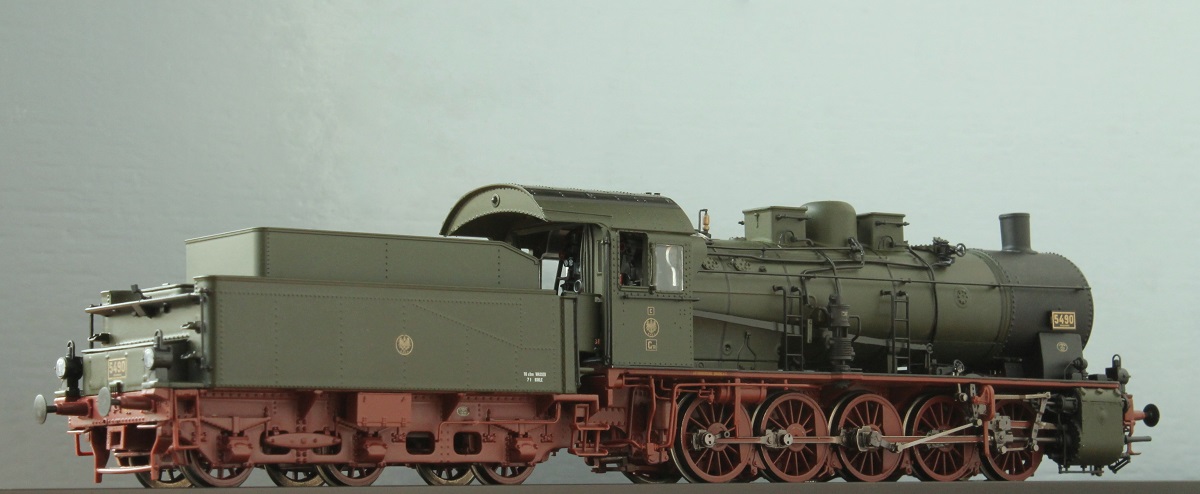 Brawa 40843
10.3.2018
A small visit at my dealers with some gems in front of the camera:
* The Baureihe 18.5 with - exceptionally and only for the 18 505 - an Einheits-tender from Class 45...
* After 12 years a better shot of the "Steiff" car (Märklin 48806)...
* From an heritage I discovered the Märklin Museum Wagon 1987, now with correct printing Hennigsdorf (without the redundant 'n') instead of Henningsdorf;
together with the 'African Safari' set and steamer based on Märklin's 3087 viz. 3090:

Märklin 39034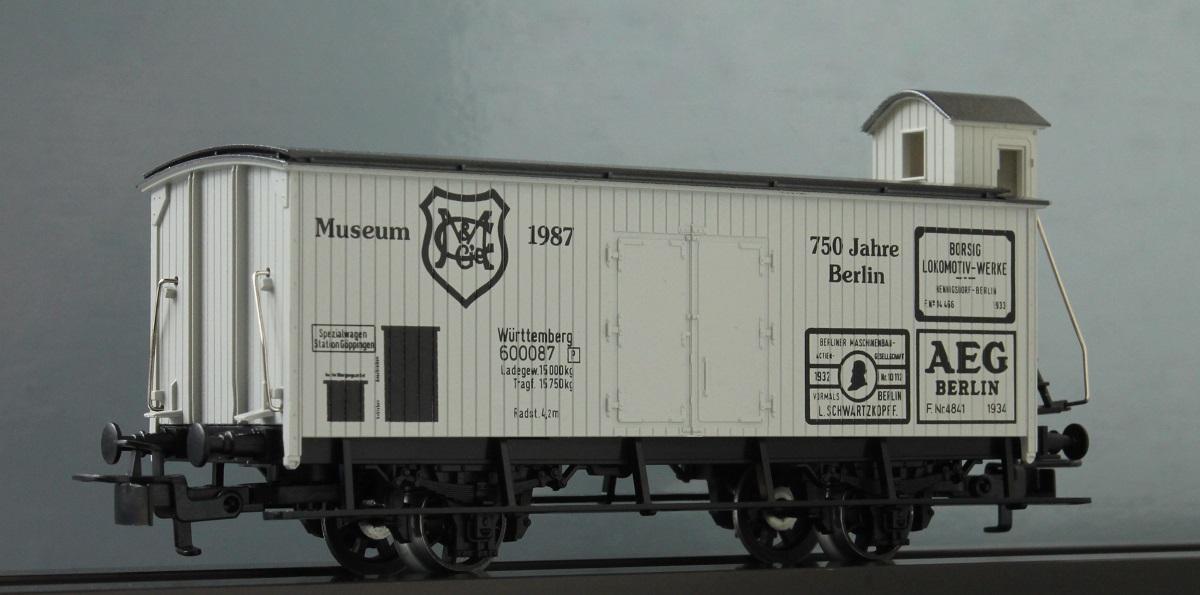 Märklin 87701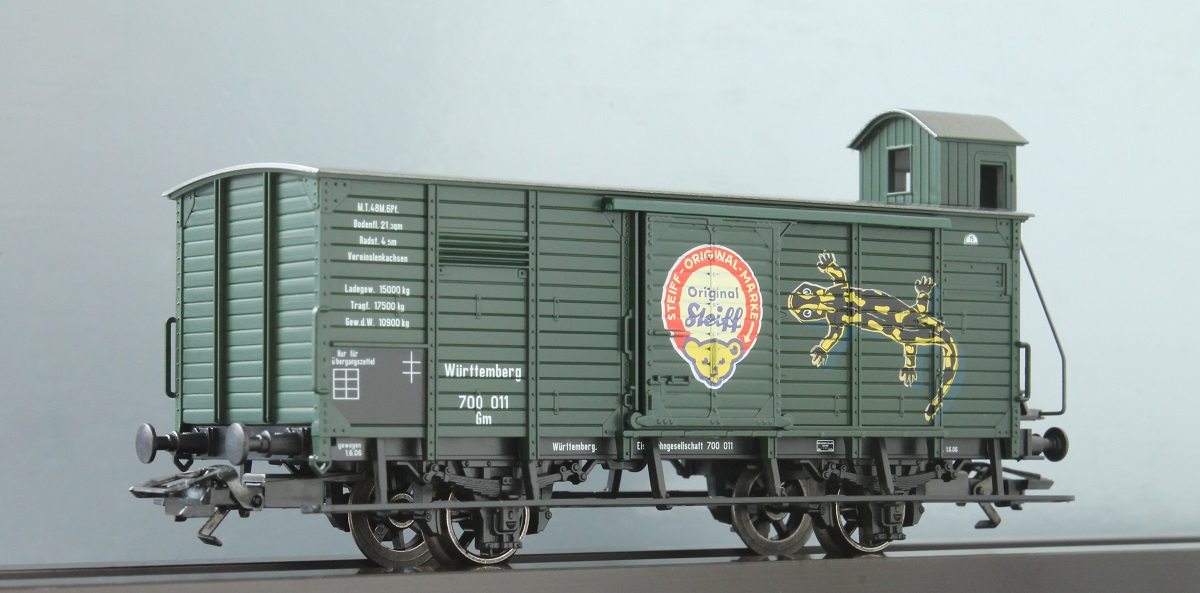 M 48806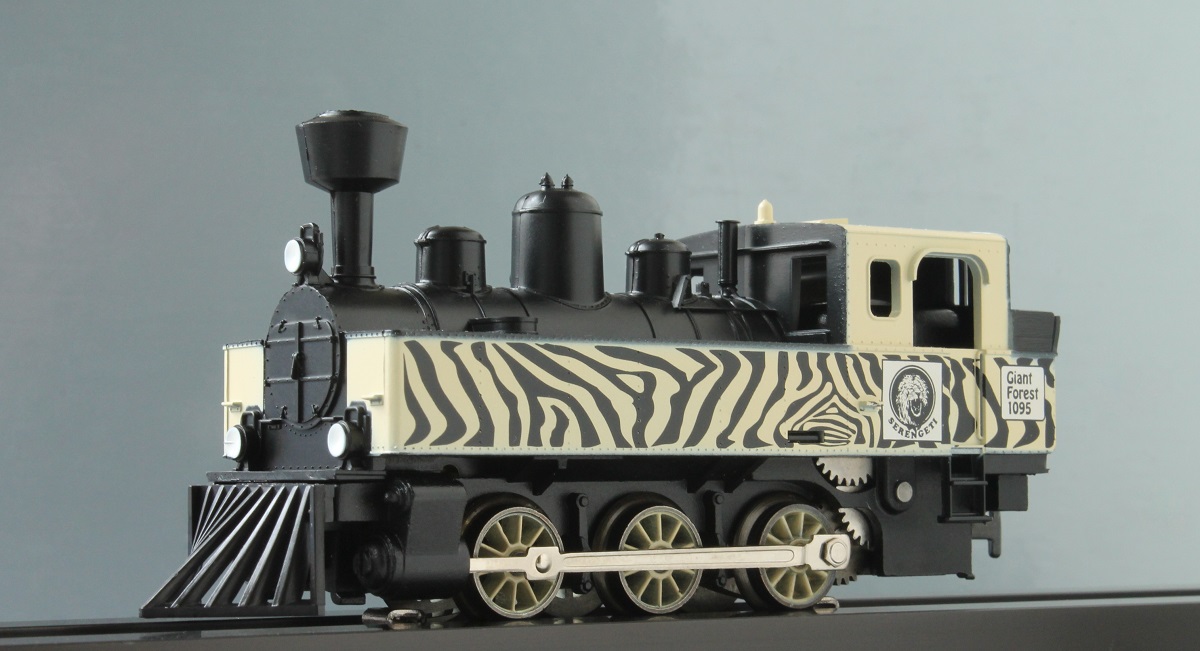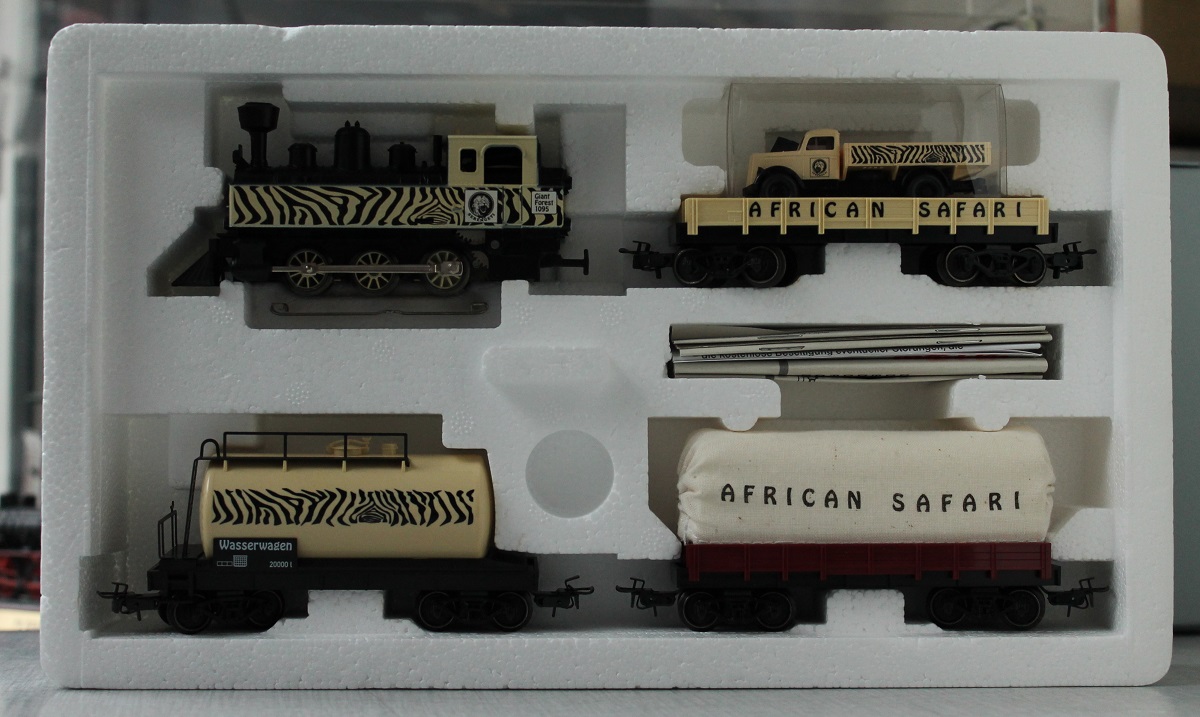 Märklin 28721
12.2.2018
Due to some research I found a model of the Prussian S 7 Bauart Grafenstaden (1904/1905) made by Model Loco and/or DRG Model .
Since this type was not taken into the 1923 DRG ranking, it lacks in my list. However, nice enough to show it just here...

Courtesy Timo Göpferich
12.2.2018
Small photo shoot at my dealers: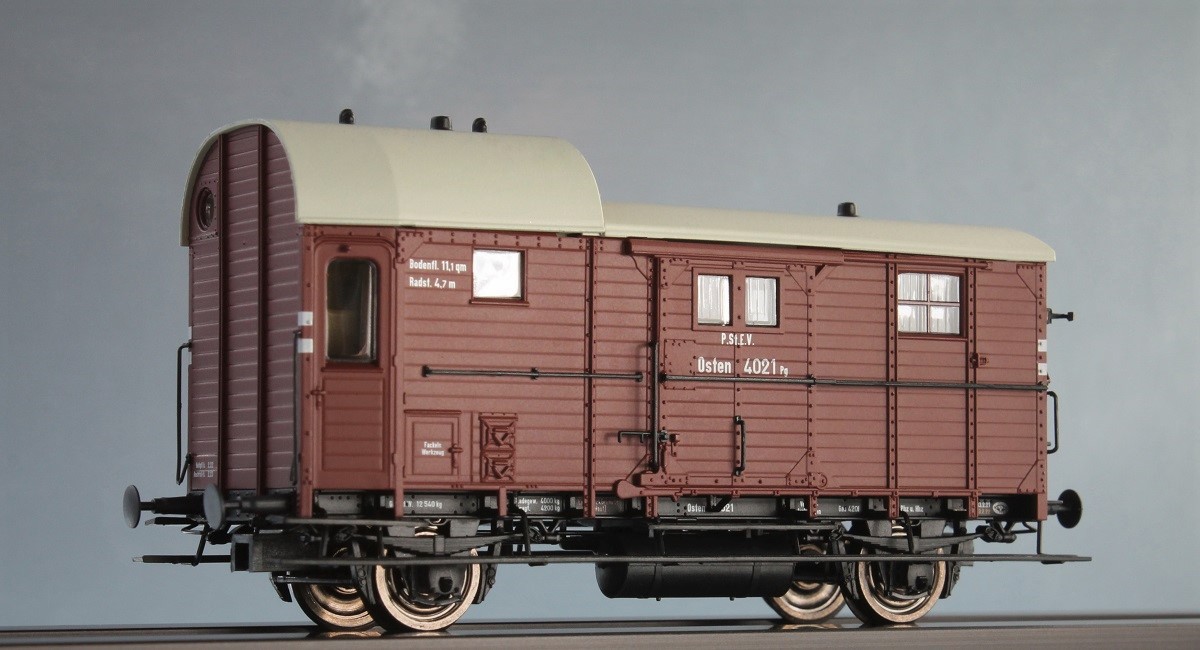 Brawa 49400 (New 2017, released 2018)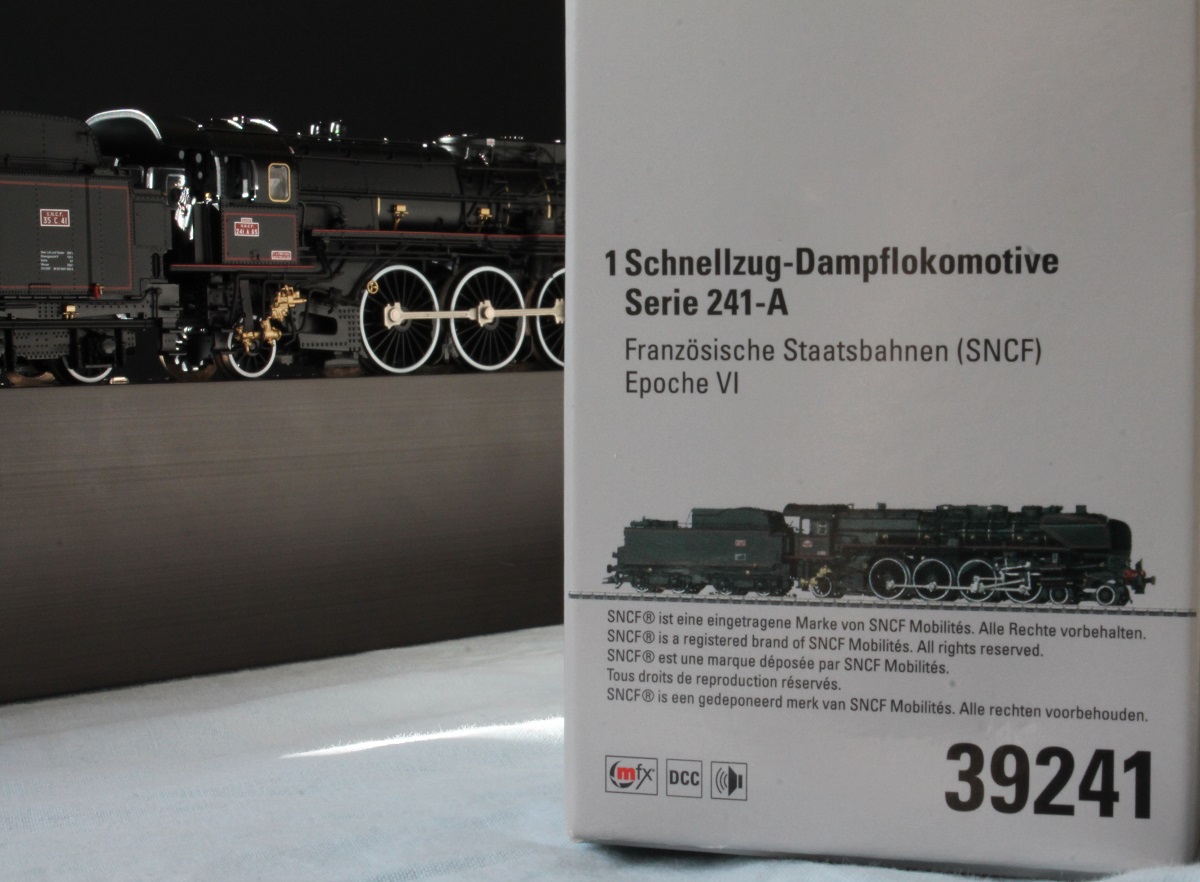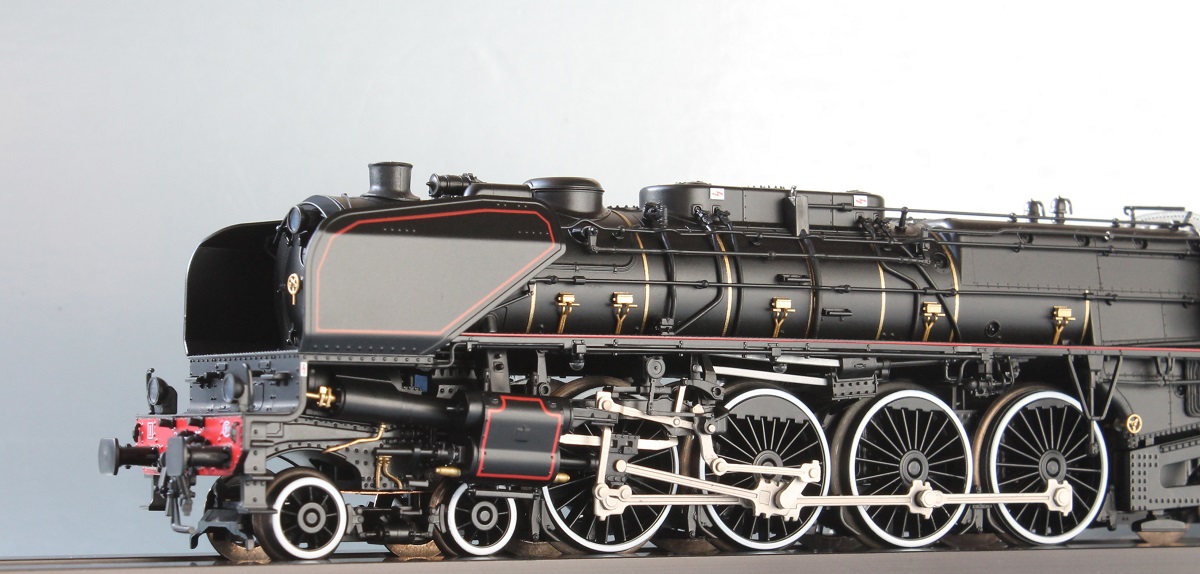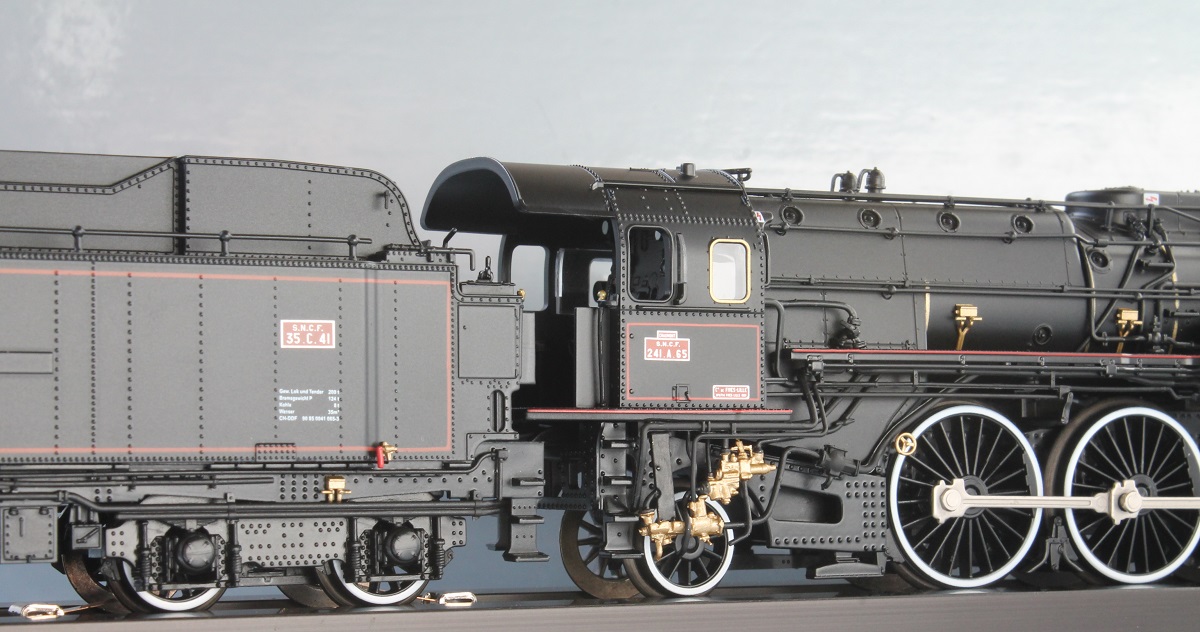 Märklin 39241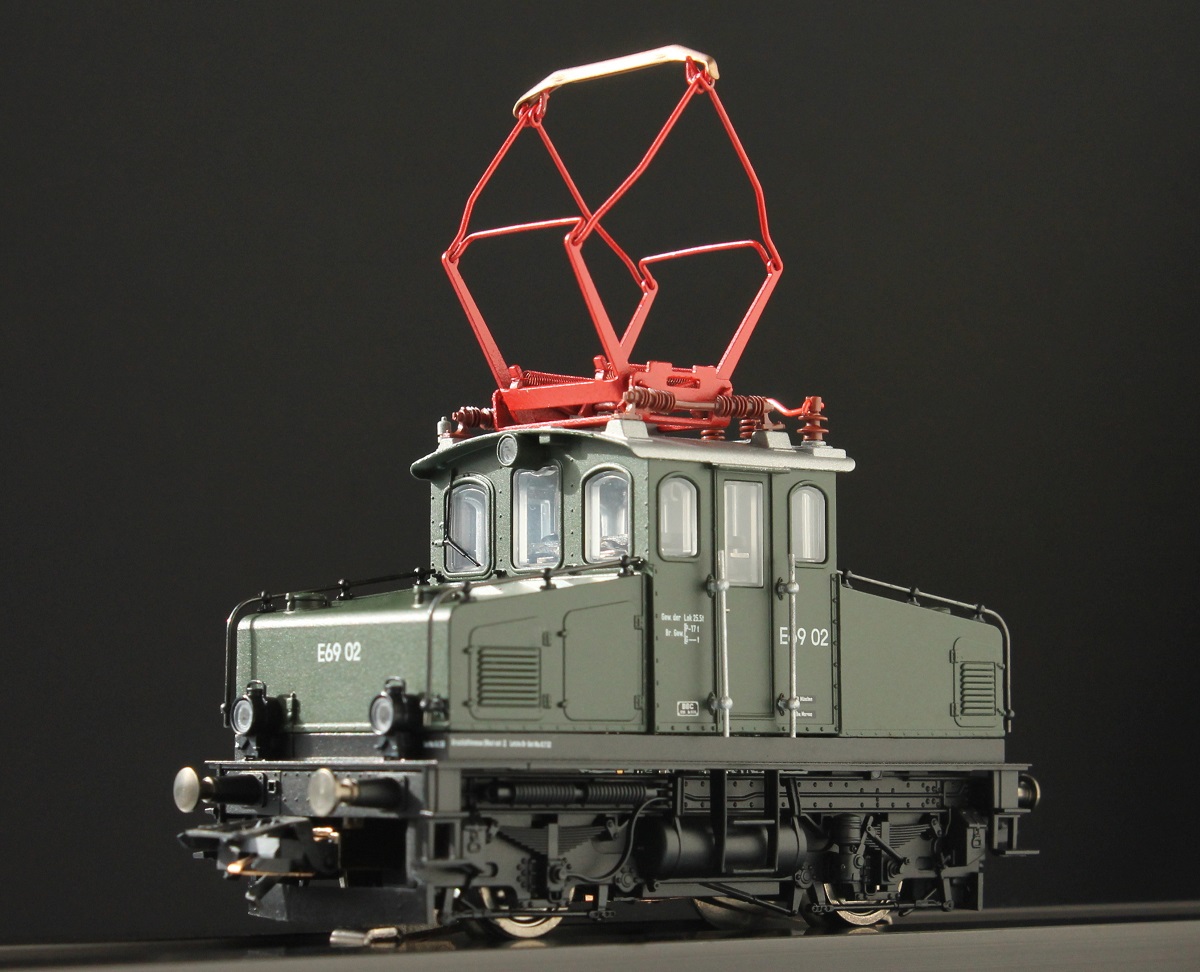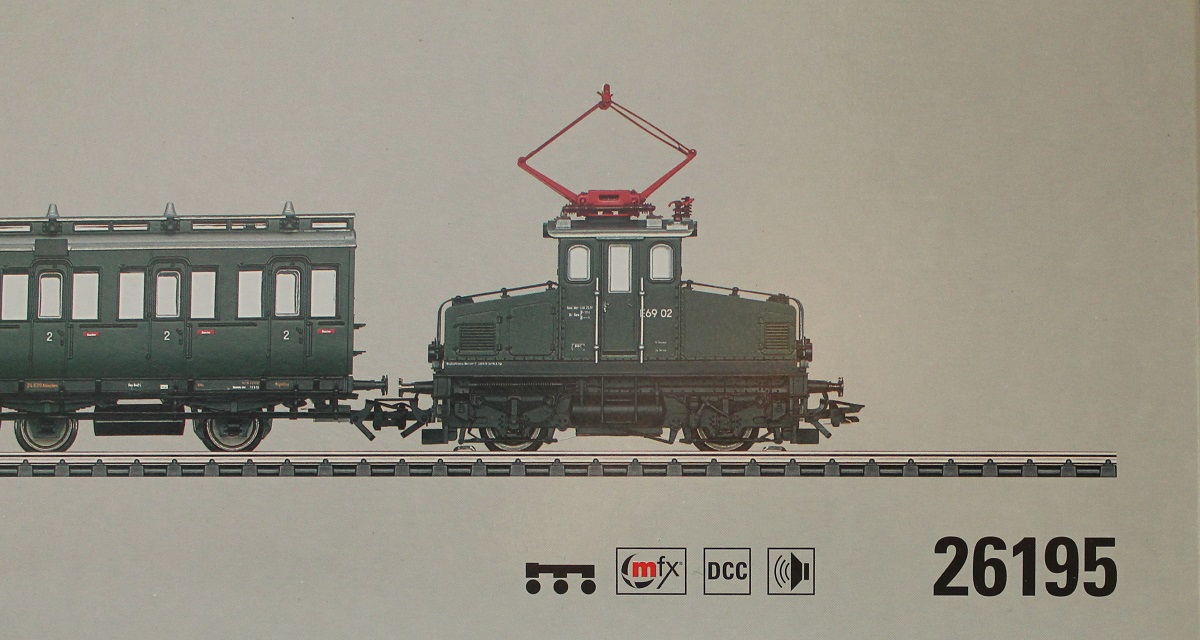 Märklin 26195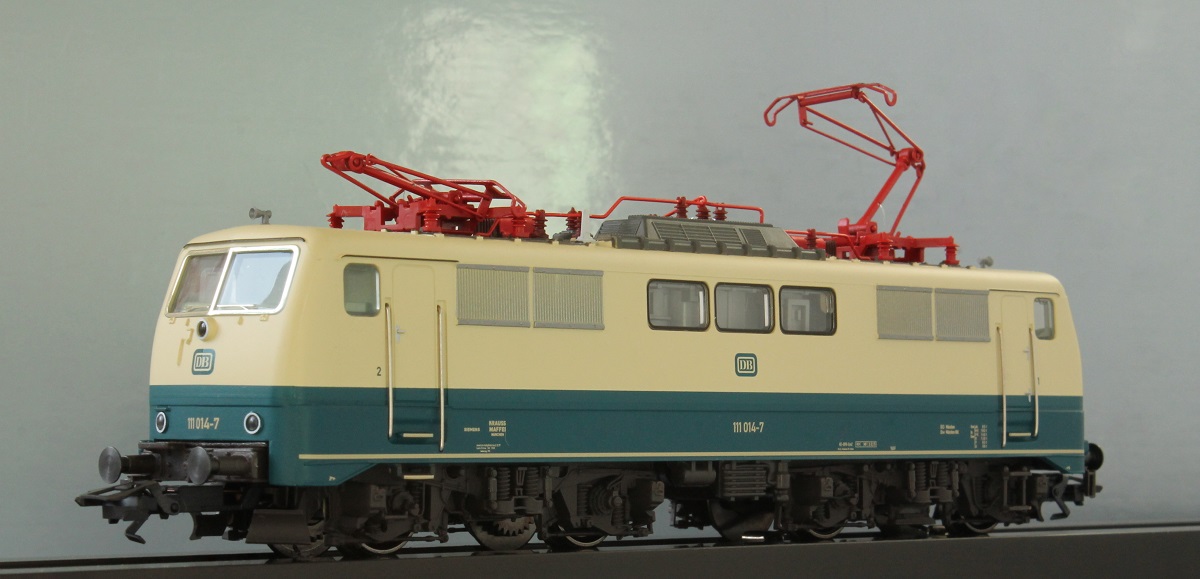 Märklin 37314
6.2.2018
Small photo shoot at my uncle's: Fleischmann's E 52 07 (435271) and E 94 282 (Roco 72345):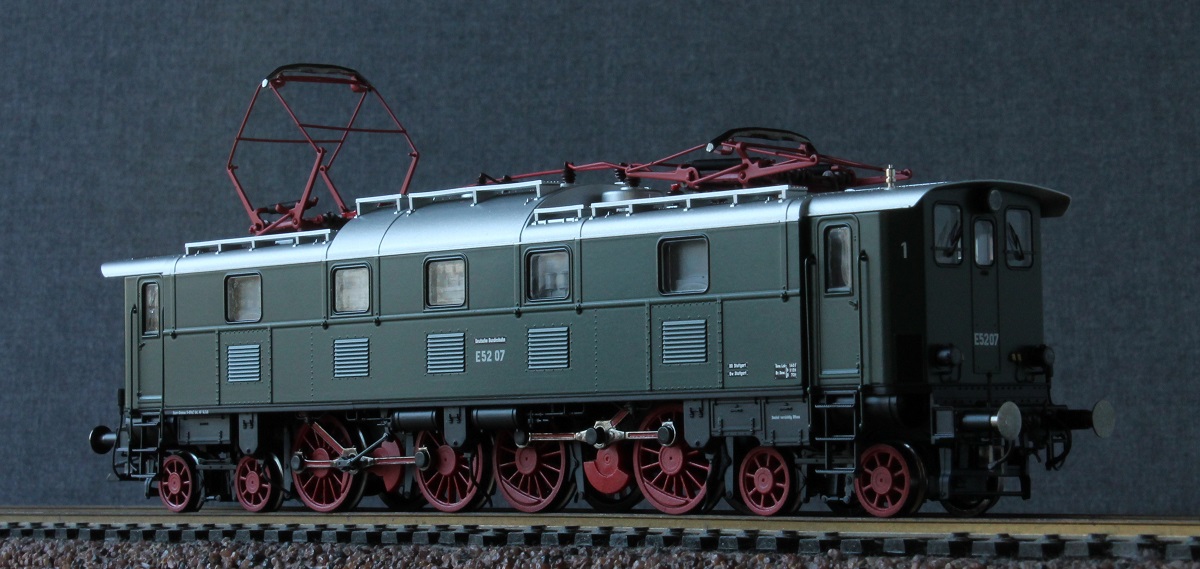 Fleischmann 435271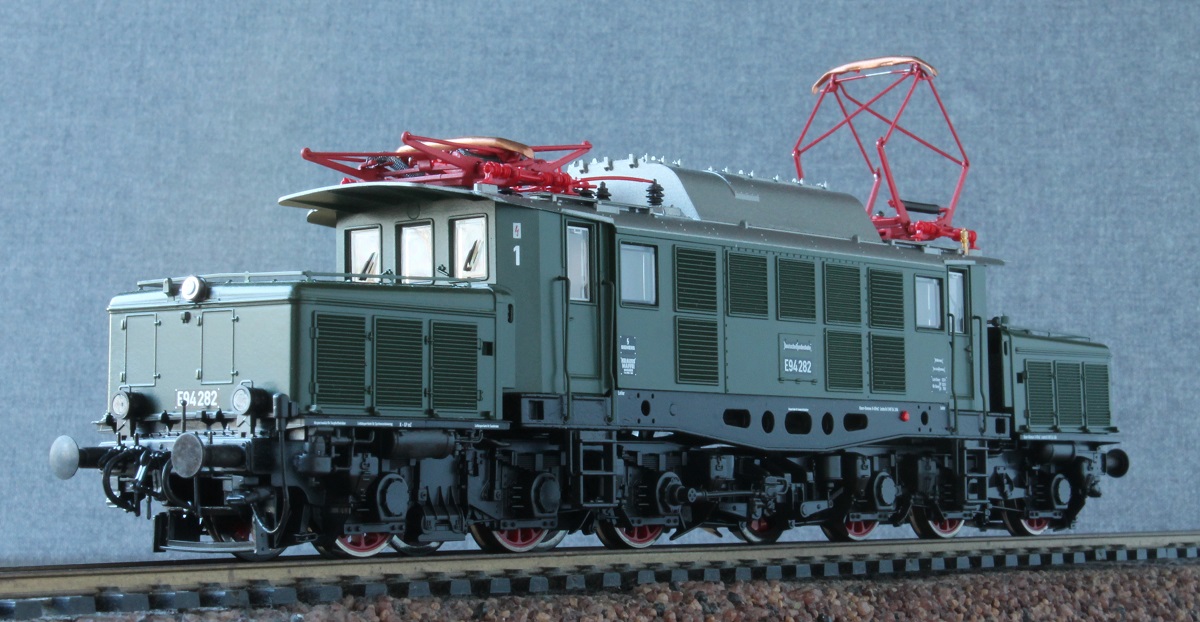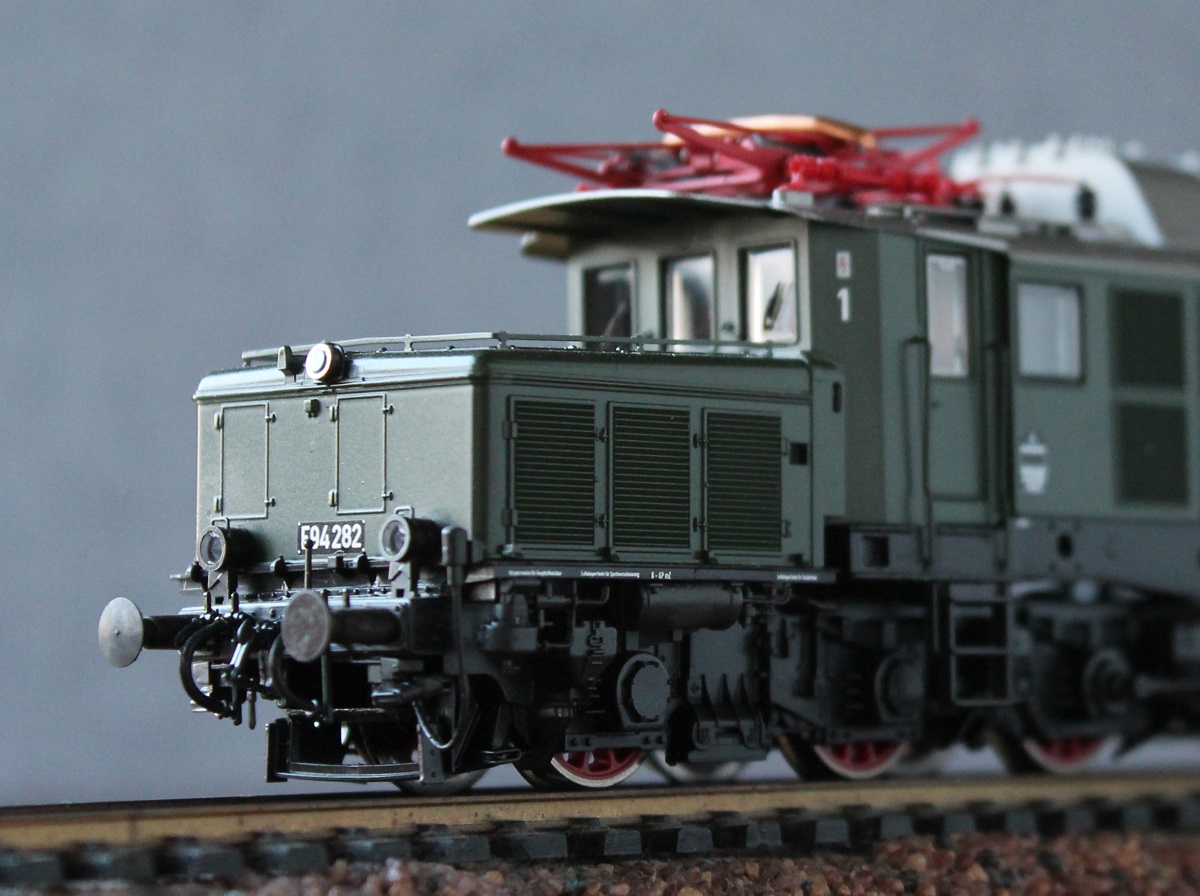 Roco 72345
More pictures of these models at: Picturebook Altbau Eloks
3.2.2018
Sander van Wijk sent me some pictures from the Nurmberg Toy Fair, a.o. the Class 42 Kriegslokomotive, one of this years news from Märklin, and the PfalzBahn version
of the bay. S 2/6 (37018):

Märklin 39044 © SanderVanWijk (Handmuster, still with missing water hose)

Märklin 37018 © SanderVanWijk
Photo's by Sander van Wijk at the Nurmberg Toy Fair, Febr. 3rd (sent to me per whatsapp)